Batu Caves in Kuala Lumpur
Batu Caves in Kuala Lumpur
If you are heading to Kuala Lumpur for the first time, chances are that you will start reading more on this magnificent city and its attractions. Whether it's a paper book guidebook or Tripadvisor, you will quickly realize that Batu Caves is one of the " must see"/ "must-do" places in Kuala Lumpur.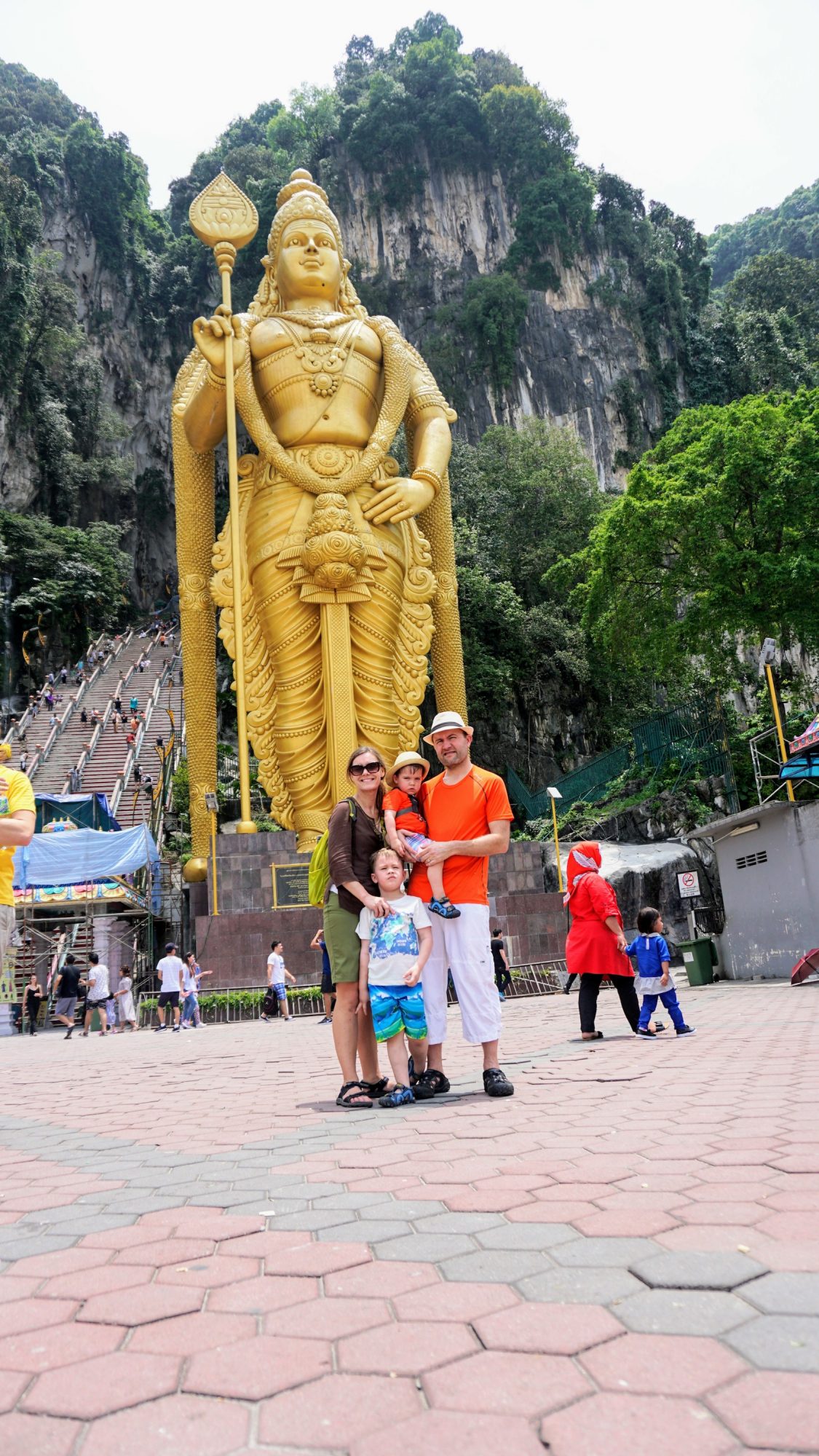 Getting there
Our airbnb was near KLCC when we decided to visit Batu Caves. Having paid hefty price for a taxi from airport to KL, taxi was the last thing on my radar at that point, which may or may not have been the right decision. Instead, we decided to take a subway to KL Sentral  to board a train to Batu Caves.  Thinking back, the problem with that transportation had nothing to do with the subway or train, but our misguided and unfounded expectations that once a train arrives, we will quickly hop on it and it will leave seconds or minutes later. Instead, we spent almost 45 minutes waiting on the train with two rombunctious boys who just wanted to GO .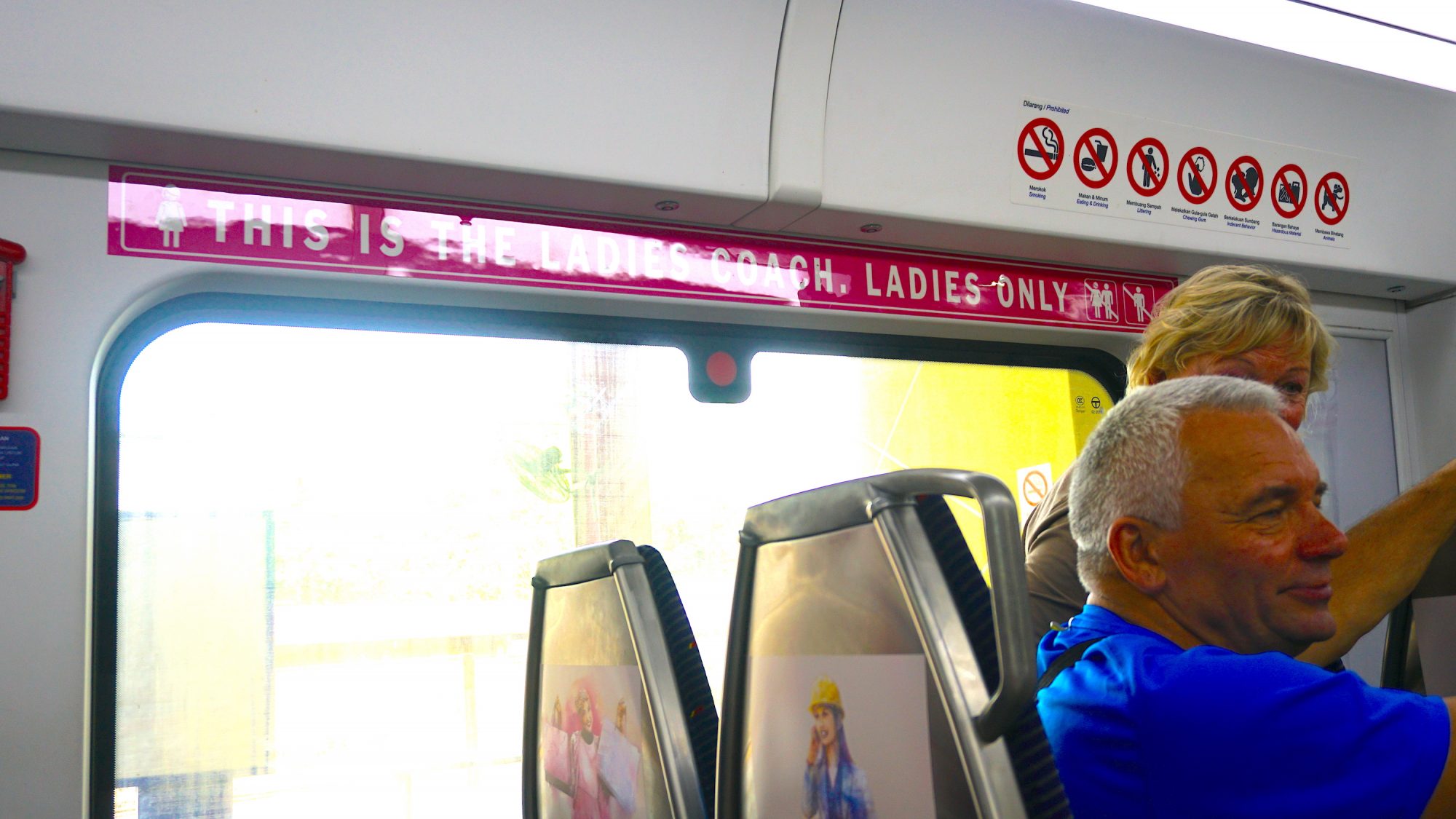 The trains are very clean with separate wagons for women. Pay attention to the signs as we initially didn't know that and our family ended up sitting in the pink wagon ( marked for ladies only). There are also several rules that one will find, including not eating. The train ride to Batu Caves takes about 30 minutes.
Once at the Batu Cave station, the entrance is only couple minutes of walking to your left. It is a side entrance which doesn't really look in any way special so it is fairly easy to miss it . In case you miss it, you can also go to the main entrance which faces the Lord Murugan Statue ( second largest statue of Hindi deity in the world).
Batu Caves
Entrance to Batu Caves is free of charge. However, women need to pay a deposit and a small fee for a shawl to cover their knees. This was a symbolic fee and a woman collecting it allowed us to leave our stroller with her before climbing the stairs to the caves.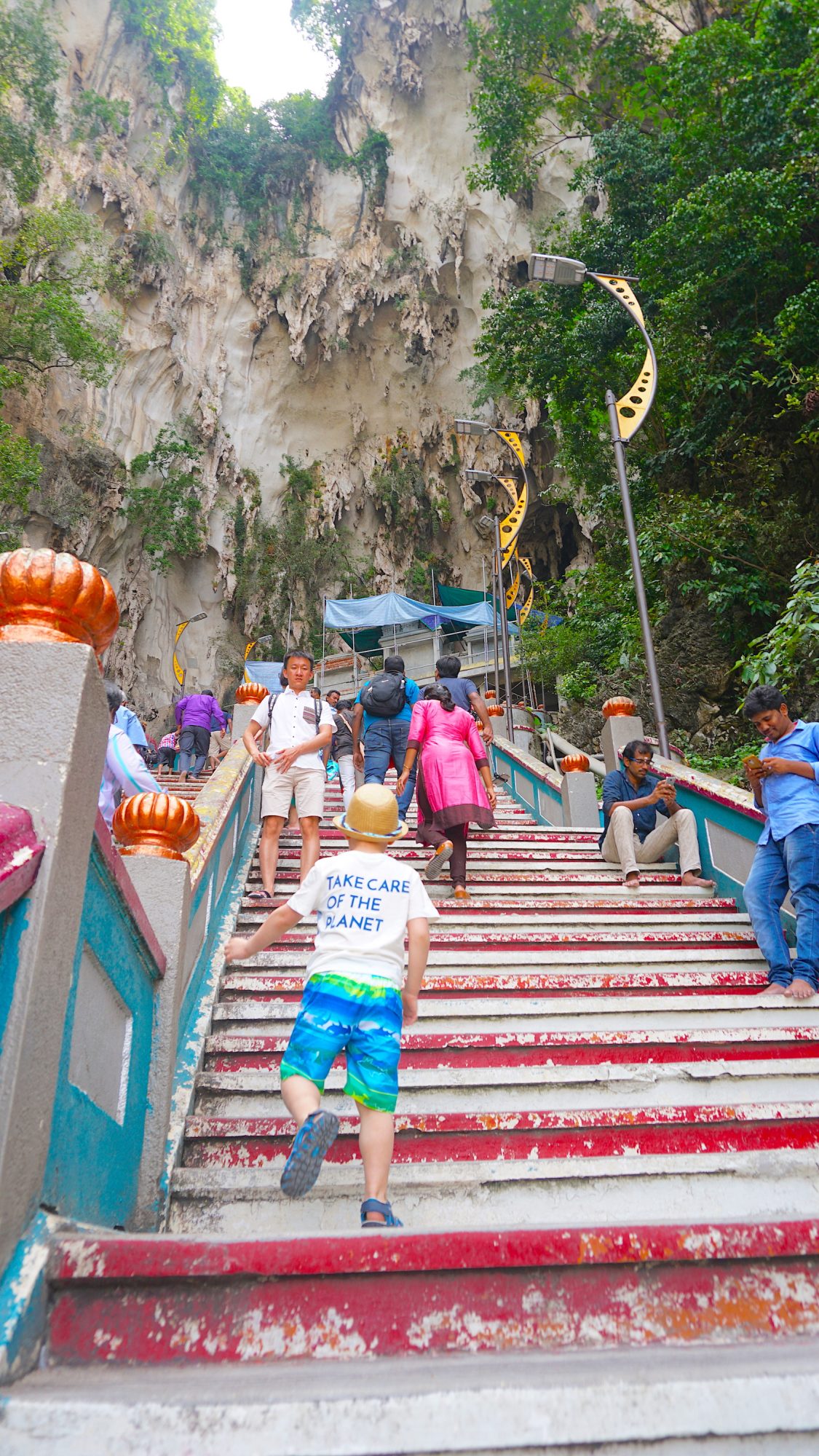 There is 272 stairs to the top which , depending on one's activity level and time of day, might take a breath away. Surprisingly, our 4 year old made it to the top without any assistance, while we had to carry our toddler. Fortunately,  every several steps, there is a wider area to rest every before tackling another set of stairs. Be aware that  monkeys are everywhere and they are very used to seeing humans, frequently stealing food from the tourists.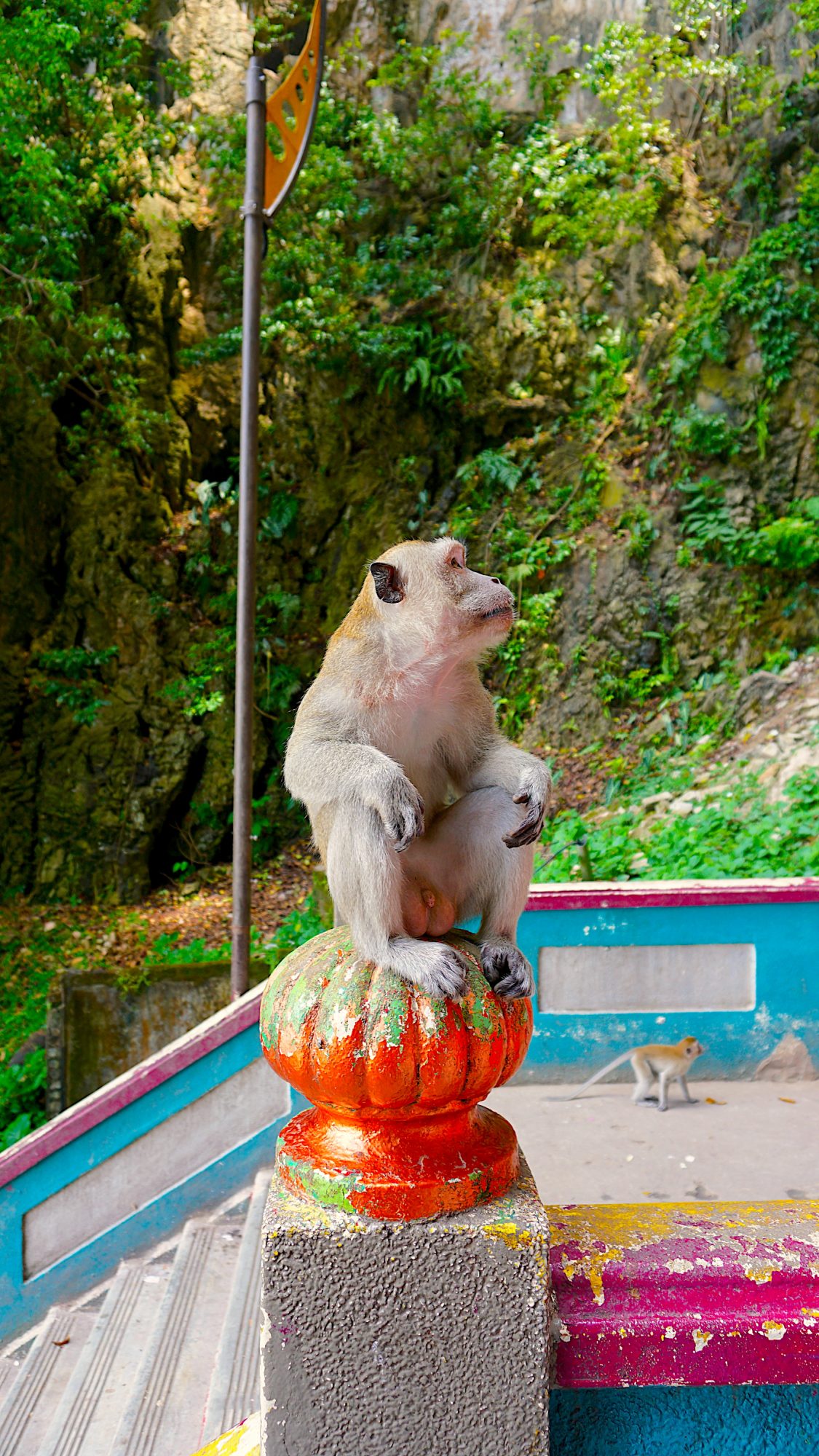 It appears that the temples inside Batu Caves are undergoing renovations and new structures and statues are being build. When you come in, you will notice a poster asking tourists to contribute by volunteering and carrying a bucket filled with sand to the workers working deeper inside the cave. Call it international volunteering opportunity, our toddler got very excited to take a part in it.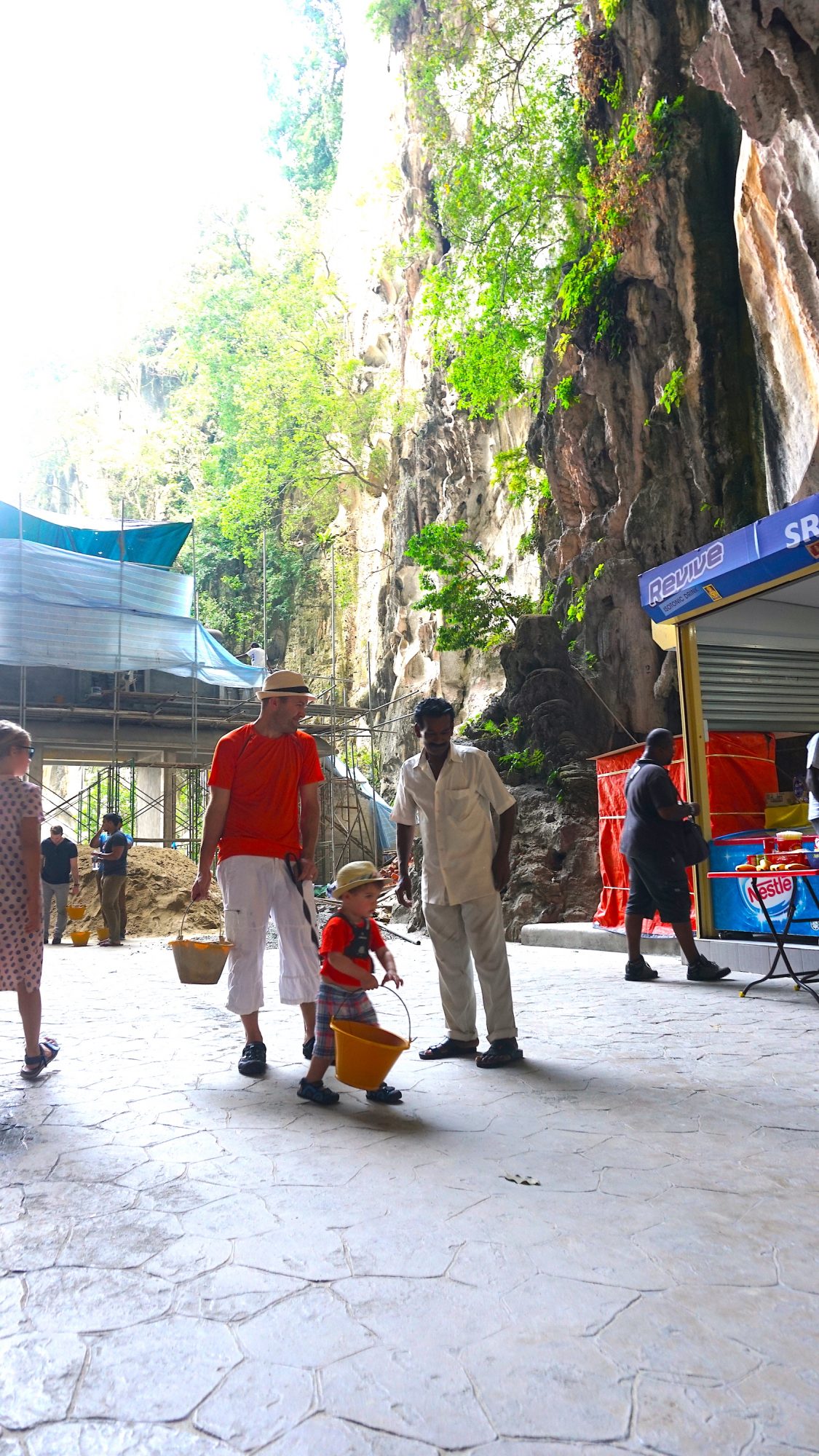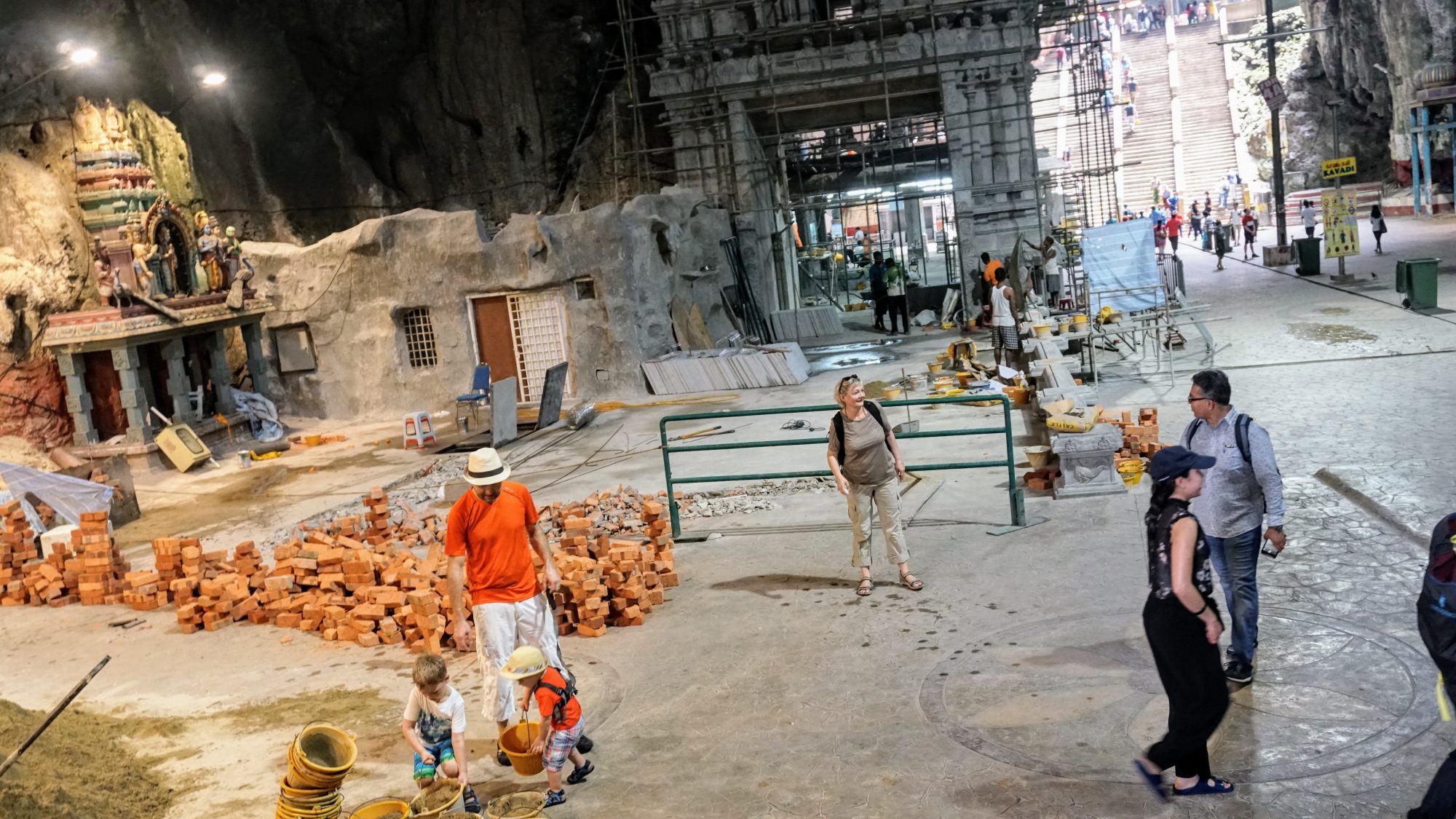 The caves themselves are massive and  interesting with stalactites and flowstones creating beautiful formations  from the cave's ceiling. As the caves host a Hindu temple,  it would have been helpful to read more about the temple and traditions of Hindu people visiting there to get better appreciation of this place. One of the attractions of Batu Caves is of course the gold statue of Lord Murugan  which can be seen from a good distance.  According to information found about Hindu religion, worshipping Lord Muruga with deep devotion, faith and bhakti all the troubles and difficulties in ones' life vanish and good days start appearing.
We visited Batu Caves in April in what felt like was the hottest point of the day, even though it was mid morning. Because of the heat, I would strongly recommend visiting the caves early in the morning ( they open at 7:00am), especially when travelling with little ones, when the temperature outside is still comfortable. Although outside we fell like we were melting away, the temperature inside the caves was very comfortable and our boys were happy to explore.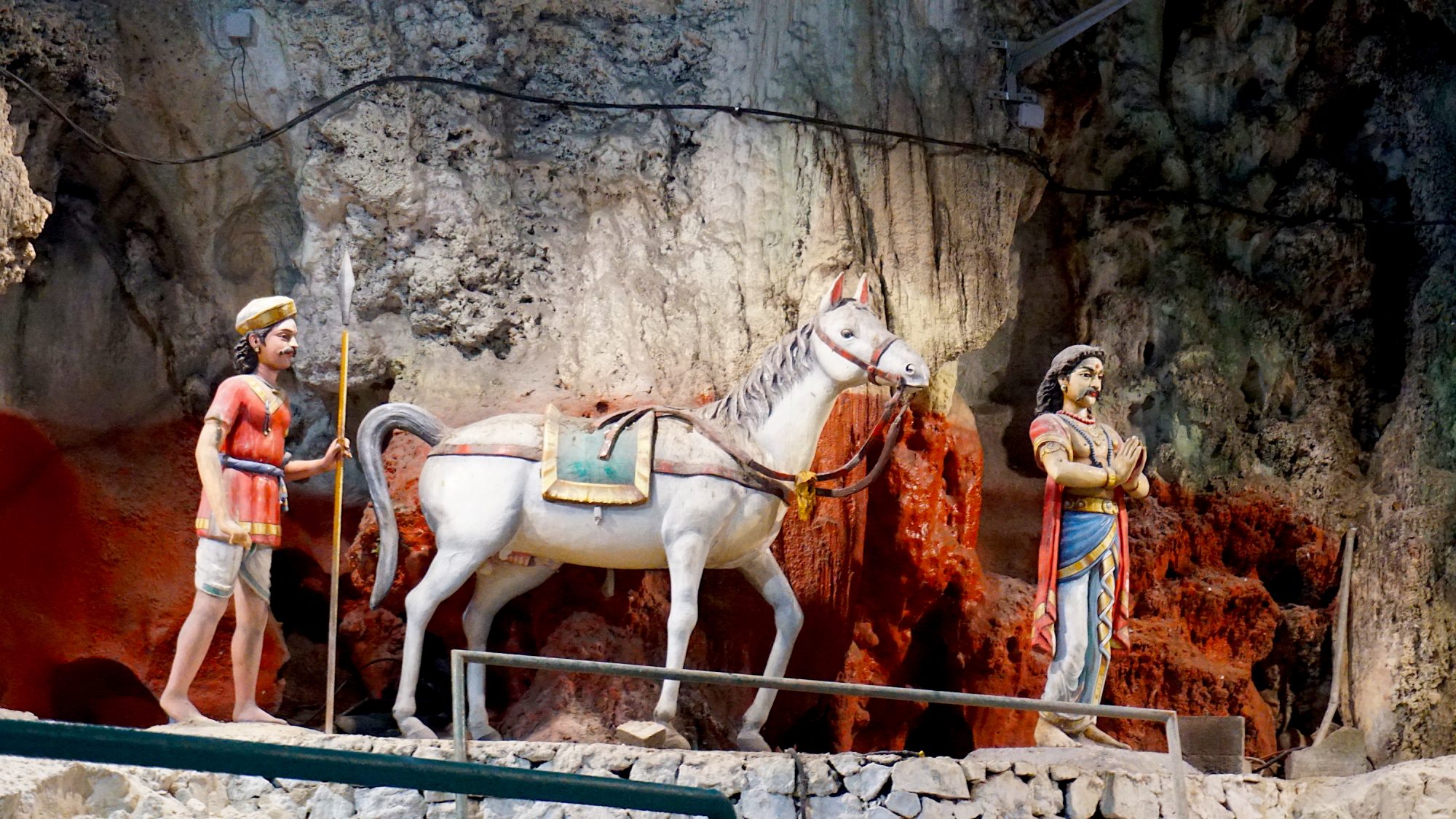 On your way down from the caves, on your right hand side, you will notice a side exit with a sign Dark Cave. Dark Cave is an educational experience  and what appears to be a great opportunity to  learn more about the creatures living in  caves. Unfortunately, even though the tours run frequently (approximately every 20 minutes), when we arrived, the wait time was 1.5 hour and our kids were in no shape to wait that long. We did end up buying ourselves a  consolation price , however, which were grossly overpriced , but very much so needed, ice-cream near the Lord Murugan Statue.