Between the trips
Between the trips
One doesn't have to travel frequently to try to  raise little global citizens, it  is a continuous effort that happens both during as well as between the trips that teaches children how to be responsible citizens of this world who are aware of the world beyond their little community they live in.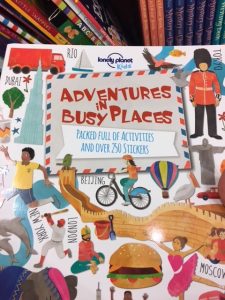 1. Talk about the world                                                                                                             Perhaps it is because of our diverse background, or because half of the family lives on the other side of the Atlantic, conversations about the world and how far it is to get somewhere and what means of transportation need to be used to get there, have always been part of our kids' lives.
While having a family abroad helps, these conversations can start anywhere; let's take a grocery store. Whenever doing groceries, talk to your children about the food they eat and where it comes from. Kids will be amazed at the way certain food grows or is harvested ( pineapples  never stop to amaze me!!) and the journey it made to get to your store.
2. Inspire love for travel books
It was just around the time our oldest one was born when we bought a colourfully illustrated book titled "where to go and when". The illustrations in the book were mesmerizing and short stories to go along with it captivating. Although not on purpose, the book was frequently on our nightstand and whenever our little ones were not interested in sleeping at night , we would open the book, show them different pictures and talk to them about what they saw. Perhaps not surprisingly, at first,  the most popular pages were those that contained pictures of any animal my children could recognize :). And that is how suddenly, Thailand, Malaysia but also South Africa became important countries for our then 3 year old. Although he can't read yet, at age of 4, A. is becoming really good at identifying countries by some of their "landmarks" such as golden buddhas.
Around 3 years old and just before a trip to U.K. , A. appeared to display  a keen interest in the world and travel.  Again, we turned to books  and got him not one , but two , world atlasses ( in both English and Polish).  For those looking to start a discussion with their children about world, this is such an amazing  purchase! It felt like pieces of the puzzle in A's head about world started to slowly come together. Suddenly, it opened up a dialogue about the world and continents as he was able to see the distance on the map it took to get from Canada to U.K and then mainland Europe. We also started to play simple games where we would name something important about a country and A. would try to guess which one it was,  e.g., which country really likes to eat pasta and pizza?. The games are simple but became a household favourite.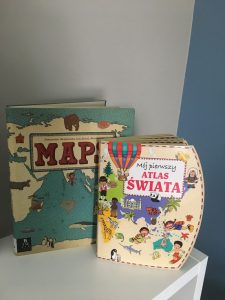 Our Maps books was actually purchased in U.K. , but is also available on amazon and indigo  
If you have a  favourite worldly book for children you love, let me know; we always look for new inspirations.
4. Bring the world to your child-  participate in cultural events in your own backyard
Living in Canada, this is actually fairly easy thing to do. Every Summer, our own town puts on multiple events that bring the culture, music and people together, Whether it is a Cinco de Mayo or our beloved Sunfest, the children have a blast eating different food , playing other games ( piñata at cinco de mayo) and dancing to music that might not be mainstream.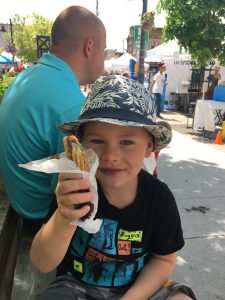 While raising little global citizens is such a fun and , I would argue, important lesson, there is a slight drawback to it and , to be perfectly honest, something that caught us completely by surprise.  As our 4 year old started JK, a month or two into it, A. came back from school distraught. The story goes that  he and his best buddy got into an argument that day as his little friend didn't think that Canada was in North America . We needed to have a discussion with our  boy about the fact that perhaps he doesn't know that yet and maybe their teacher could show children world map to talk about the continents :). We were lucky in that the teacher was quite receptive to the idea and brought to the classroom a commercial airline pilot to talk about it , but we definitely heard during a parent teacher meeting that our child is " worldly " :).