Beyond Bangkok- Kanchanaburi
Beyond Bangkok- Kanchanaburi
Those visiting Thailand via escorted tour might hear about Kanchanaburi in a context of a day trip from Bangkok to River Kwai. However, underestimating this place would be a huge mistake. Kanchanaburi province is a true adventure paradise for people of all ages. With the diversity of things to do,  I would go as far as comparing it to Chiang Mai, without the hustle and bustle of a big city that Chiang Mai has become.
Getting to Kanchanaburi
There are several ways of getting to Kanchanaburi, including local bus, hiring a minivan or even a taxi. However, as counterintuitive as it might seem, despite not having AC or any Western comforts, we chose  local train from Bangkok due to the comfort that trains in general provide. Let me explain. after getting dirty looks from my husband for choosing a train to and from Ayyuthaya, I questioned whether a train ride was in the cards for us ever again.
There are only two trains that go daily to Kanchanaburi from an old Thornbburi station one at 7:45am and the other one at 1:00pm. These trains have no AC despite a three hour journey to the destination.
So why to use a train?
One thing that we have quickly noticed during our backpacking trip is that while our kids did fairly well in confine places like a taxi for a short period of time, within 15 minutes, there was a lot of fighting, yelling or silly behaviour. On the train, however, the kids could get up, stretch, walk around, or even sit as far as they needed to from their brother to get a break , before exhausted they would fall asleep. Because we could separate the kids, we also found that we were able to divide and conquer and felt less stressed and tired.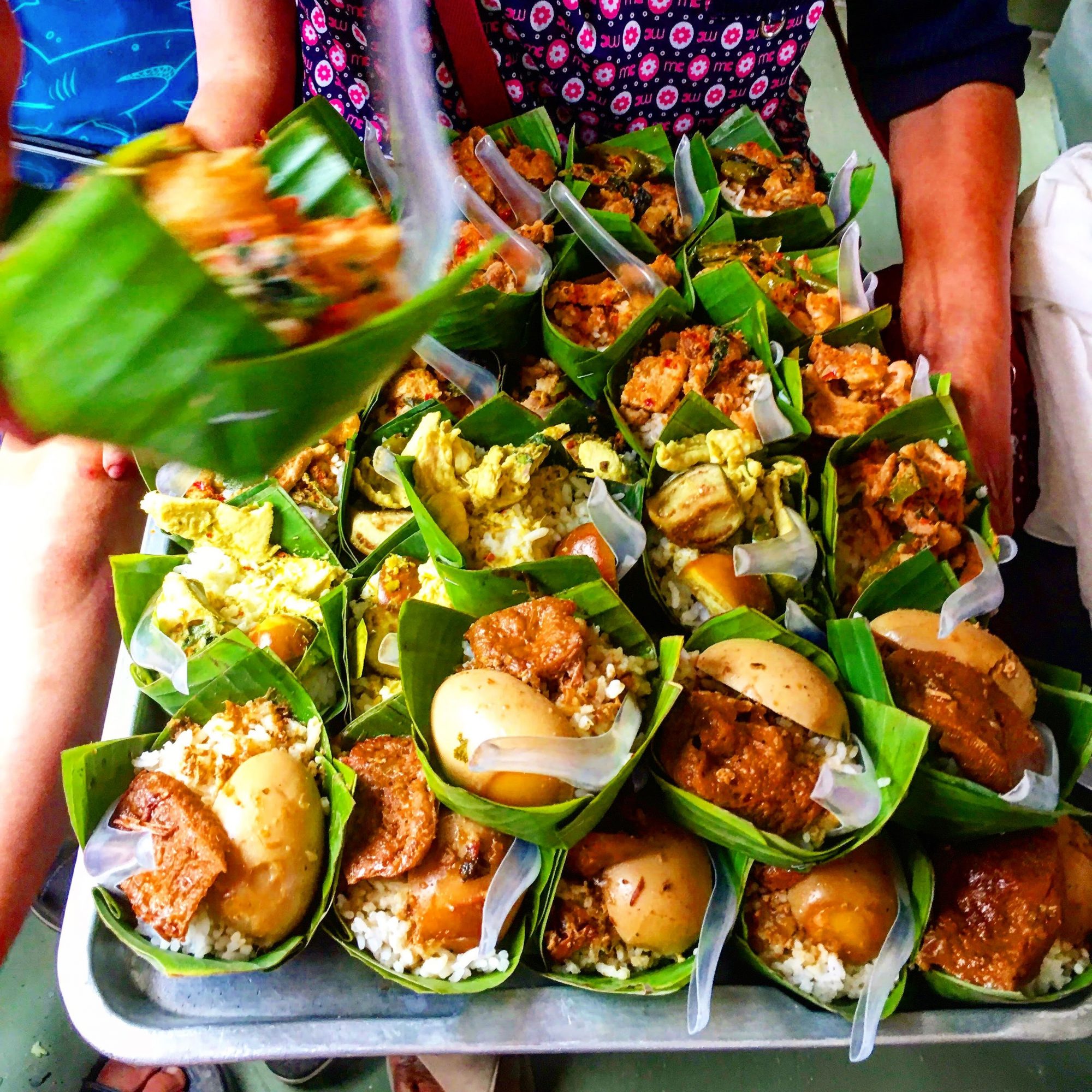 Elephants Encounter
Booking elephant trip was a huge task that I took on very seriously. There are numerous companies that offer experiences riding elephants in the baskets, and perhaps one or two whose main goal is conservation. As this was my parents' first visit to Thailand, they were hoping for something in between. On one hand, it was crucial that the place we chose did not endorse cruelty toward elephants, on the other hand, for all the selfish reasons, we just wanted to bathe and play with them. At the same time, this was our third time in Thailand and third time with elephants ( previous encounters were in Chiang Mai and Krabi0, and we had a pretty good idea of what we were after.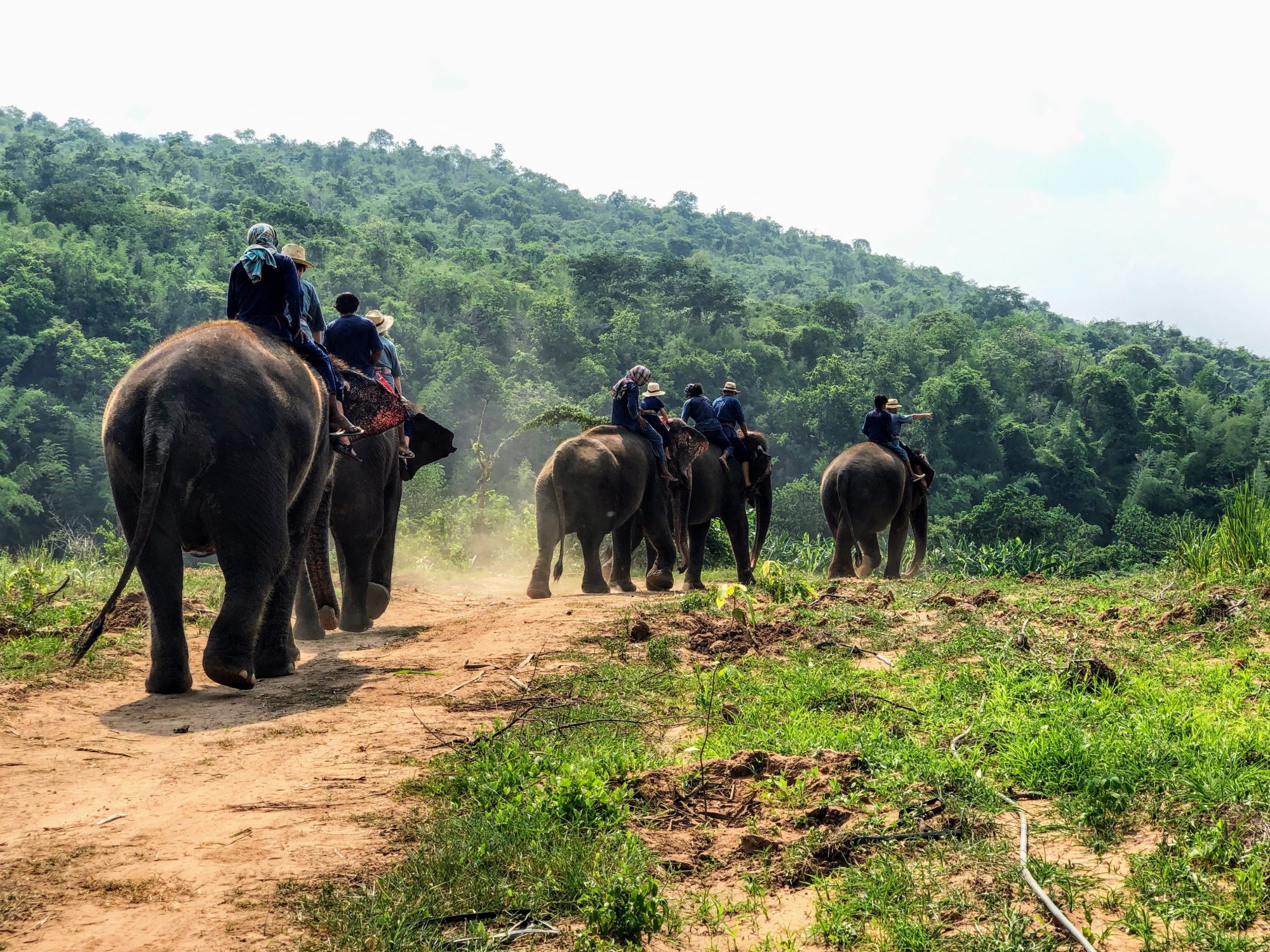 After reading dozens reviews, we decided on choosing Elephants Home and Nature ran by Tong. The experience wasn't cheap with its hefty price of 3000 Baht per person for a 3 hour package that included playing, bathing, making food for elephants, feeding them and then having a dinner. In reality, we spent closer to 4 hours with the elephants and the experience was nothing less than spectacular; from the very begging of the elephants coming to the gate to greet us as we arrived, through swimming with them in River Kwai, giving them mud bath, making vitamins rich foods to delicious feast of fish, galanga soup, veggies and chicken after.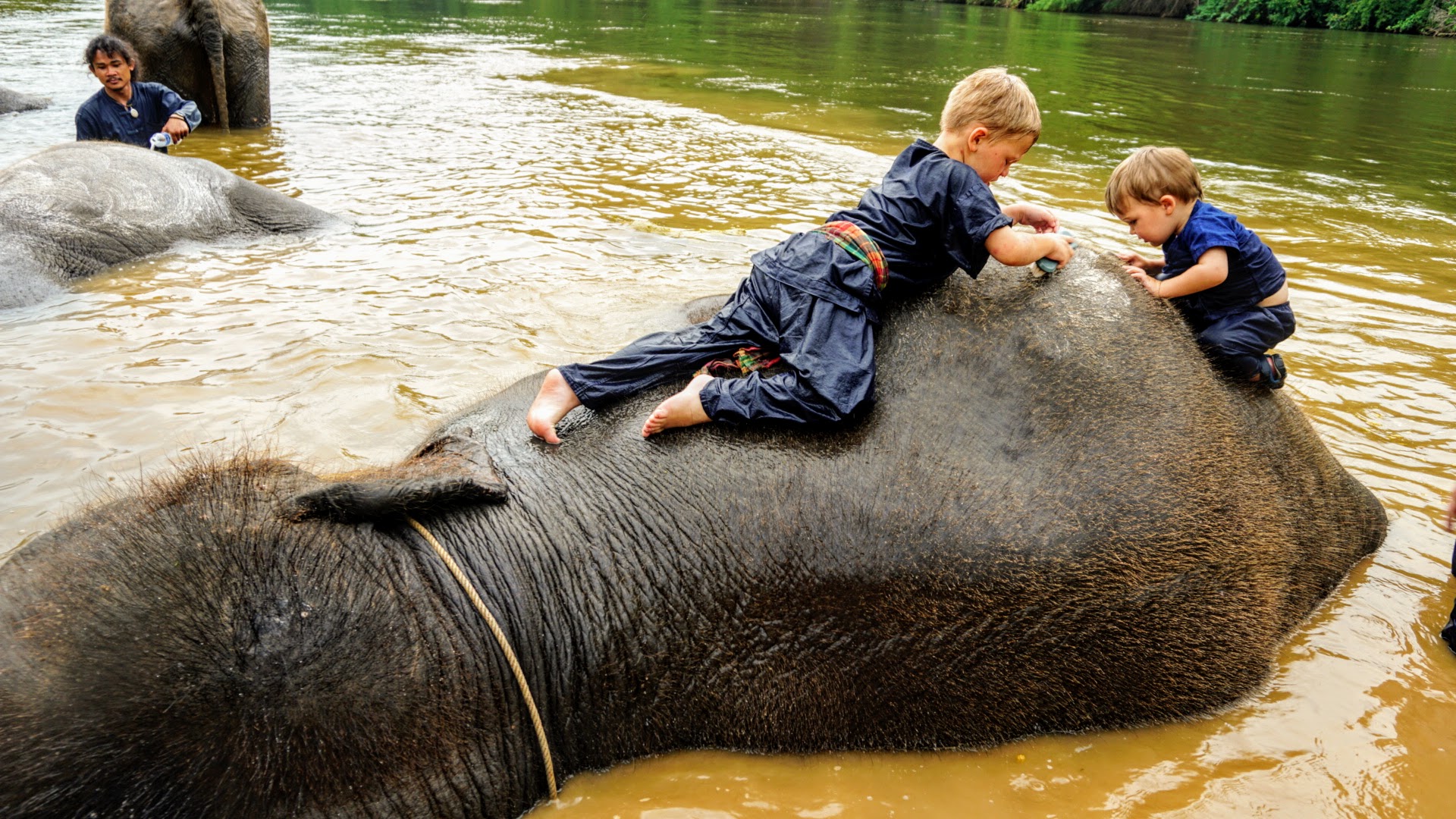 Being this our third trip to Thailand and third different experience with elephants, I cannot praise this organization and its mahouts enough. These men really cared about our family and wanted us to have fun and, almost four months later, our boys can't stop talking about it ! At the same time, seeing the bond between the elephants and their mahouts and vice versa was just as incredible. In our previous elephant encounters, the activities seemed similar, but we  had to trek for a bit on a country road with motorbikes which the elephants were scared of. At that time, I  also witnessed a mahout use their hook on my elephant which broke my heart and ruined the entire experience. Because of my previous experience in Chiang Mai, when visiting  the Elephants Home and Nature, I was specifically looked for any signs of maltreatment or something being amiss, but couldn't find any. There were no hooks in sight, the mahouts were gentle with the elephants and used their voices and their relationship with the elephants to gently guide them.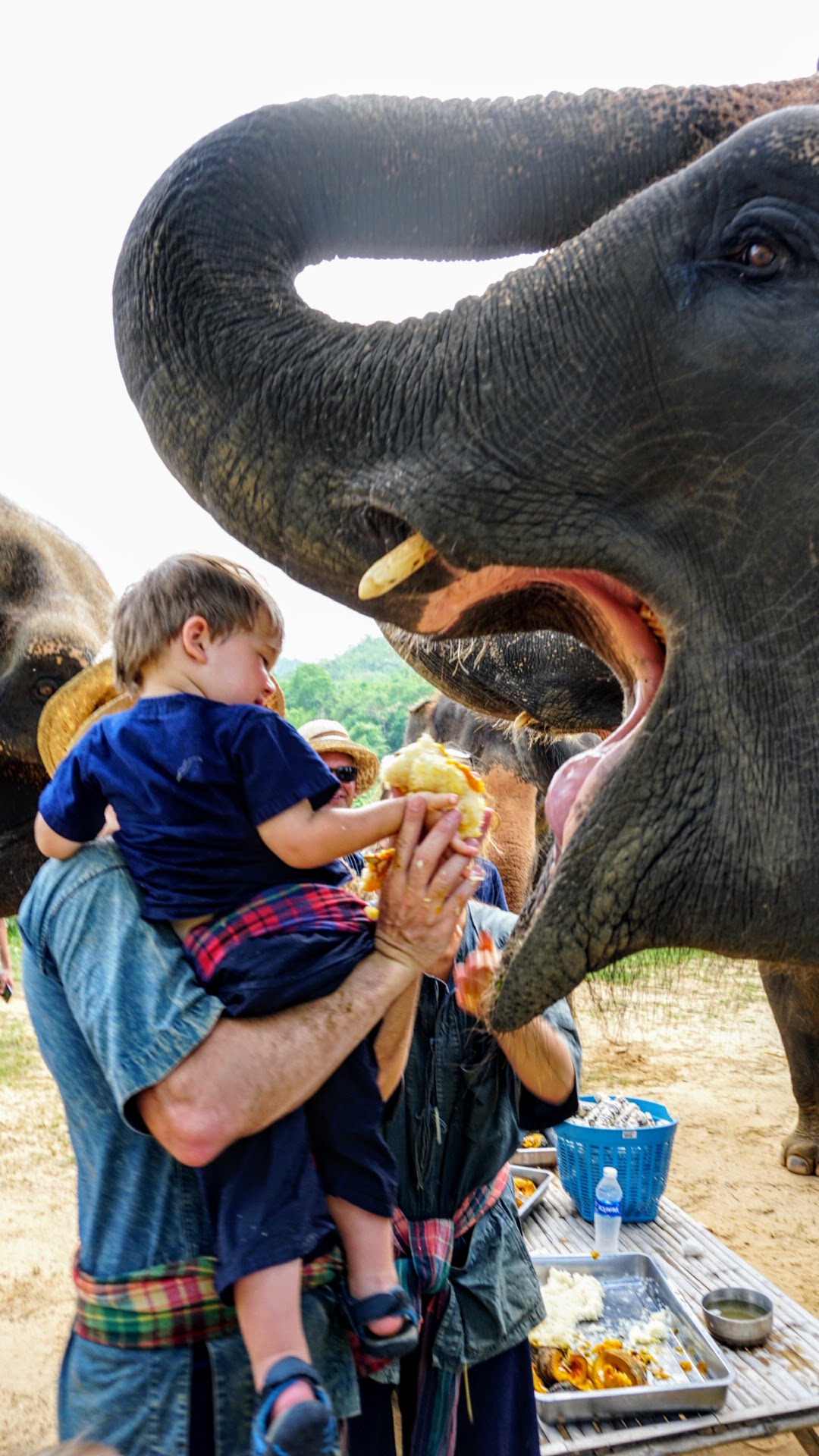 So why to choose them:
every singe person in our family ( except for my 2 year old toddler) had their own elephant and Mahout- Yes, even my 4 yer old!
we were all provided with traditional thai attire
the surroundings are absolutely stunning; its not your pond next door experience
no baskets,
no hooks used or seen in sight
great dinner
we spent some time at the end just talking to Tong and listening to her stories about the elephants and her vision- what a beautiful soul
you don't have to worry about taking pictures, hand over your camera and enjoy
Erawan Waterfall
The following day we decided to visit Erawan Waterfall. Erawan waterfall is about an hour distance away from the Kanchanaburi city and we almost hesitated on whether to go there as the transportation options are quite limited. We ended up hiring a songthaew to the falls to then later come back on the death railway.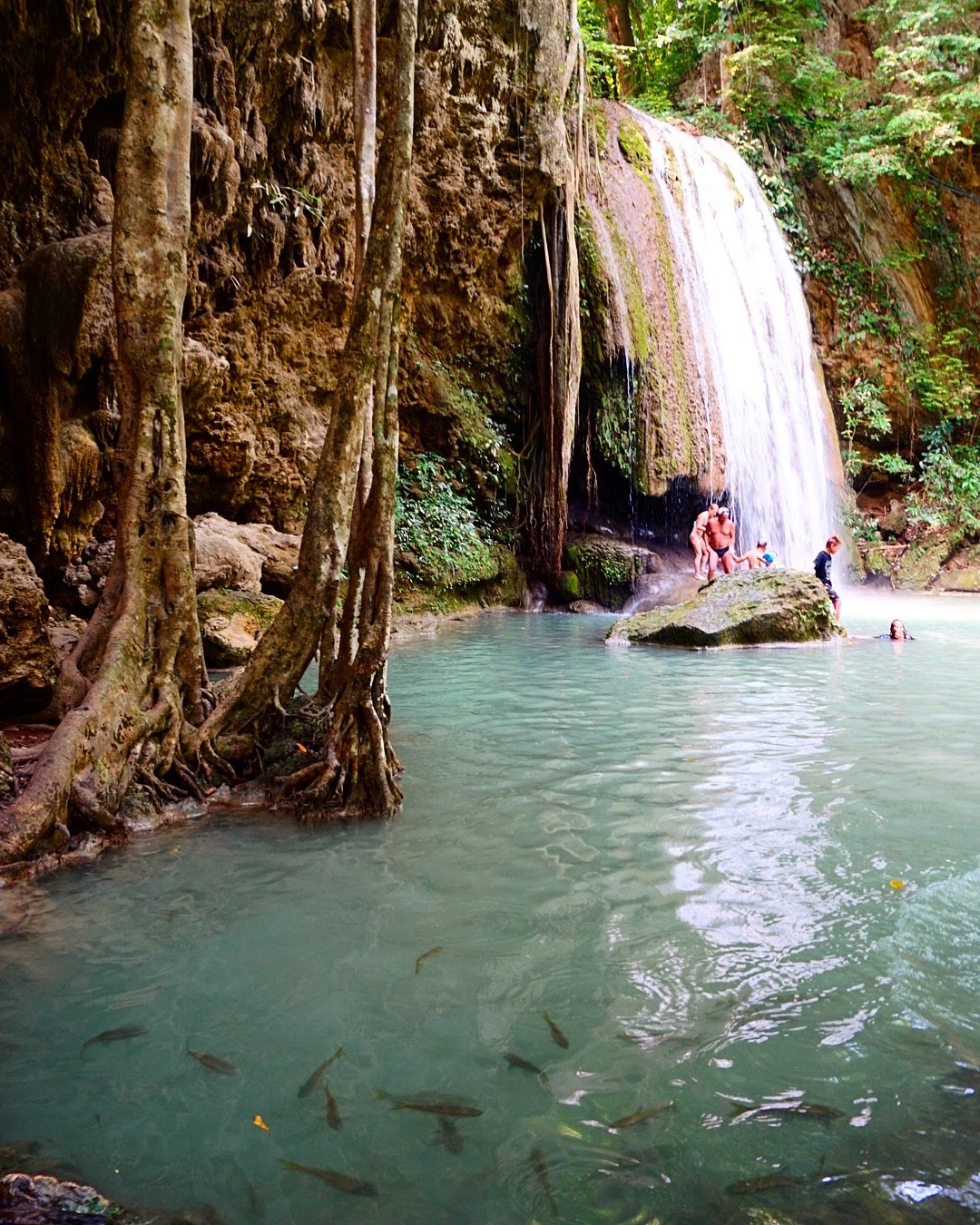 While Erawan is in fact comprised of 7 smaller waterfalls, regrettably, because of the pouring rain and our plan to hop on the train on the way back, we only visited three of them. First two tiers are widely visited by Thai families who set up their picnics to enjoy some family time; however, past the second tier, food and drinks are no longer allowed and as such, the area becomes less populated. The walk to the waterfalls felt a bit steep , especially when  carrying a two year old on my back throughout. However, in additional to great views, the natural swimming pools  filled with giant, flesh- eating monsters are a paradise for an adventurous fish spa lover. While the commercial fish spas are  somewhat enjoyable, there is something to say about being immersed  in water filled with several carp size fish nibbling on your skin. To avoid the crowds,  visit the waterfall early in the day.
Death Railway
Many people come to Kanchanaburi to ride the death railway. Here is the thing, for those who are expecting  a dare devil/exhilarating experience, you need to adjust your expectations. The name is a reminder of fairly recent history where as many as 100 000 people died during its construction as opposed to its thrill seeker appeal. According to the culture trip, the labourers consisted of in excess of 250,000 South East Asians and 60,000 POWs from various Allied countries.  Many succumbed to diseases and starvation.
Knowing what we know now, and not having enough time to see the Kanchanaburi museum or cemetery,  we would have done exactly the same thing sith going to the falls on the songthaew and only riding the train on the way back.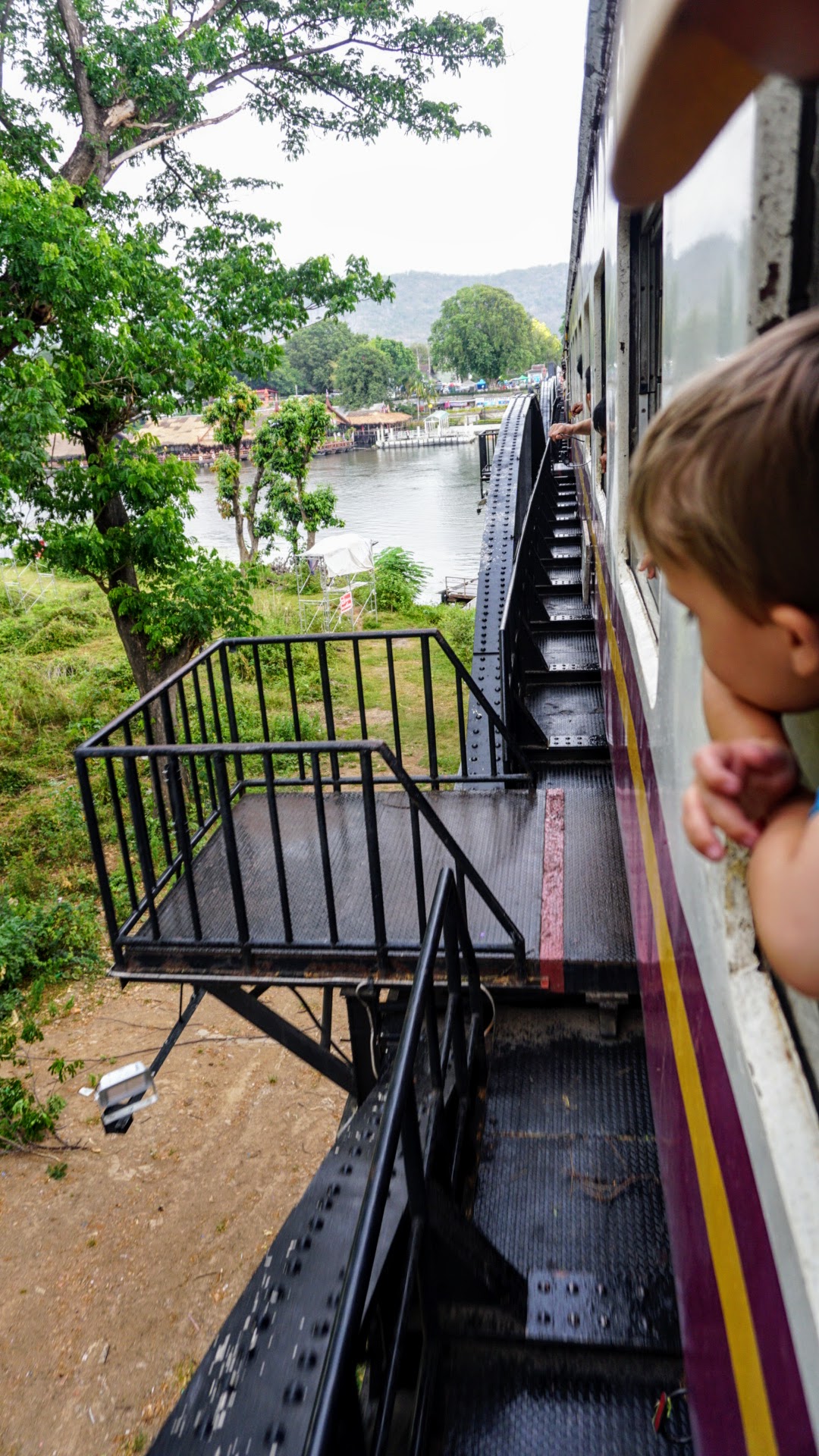 Next time
Three days was not enough in Kanchanaburi for us and,  hence, we are definitely planning to be back. Next time, the plan is to sleep in the jungle on the rafts, spend more time in Sai Yok national park and visit Dragon Head temple and Wat Tham Khao Noi.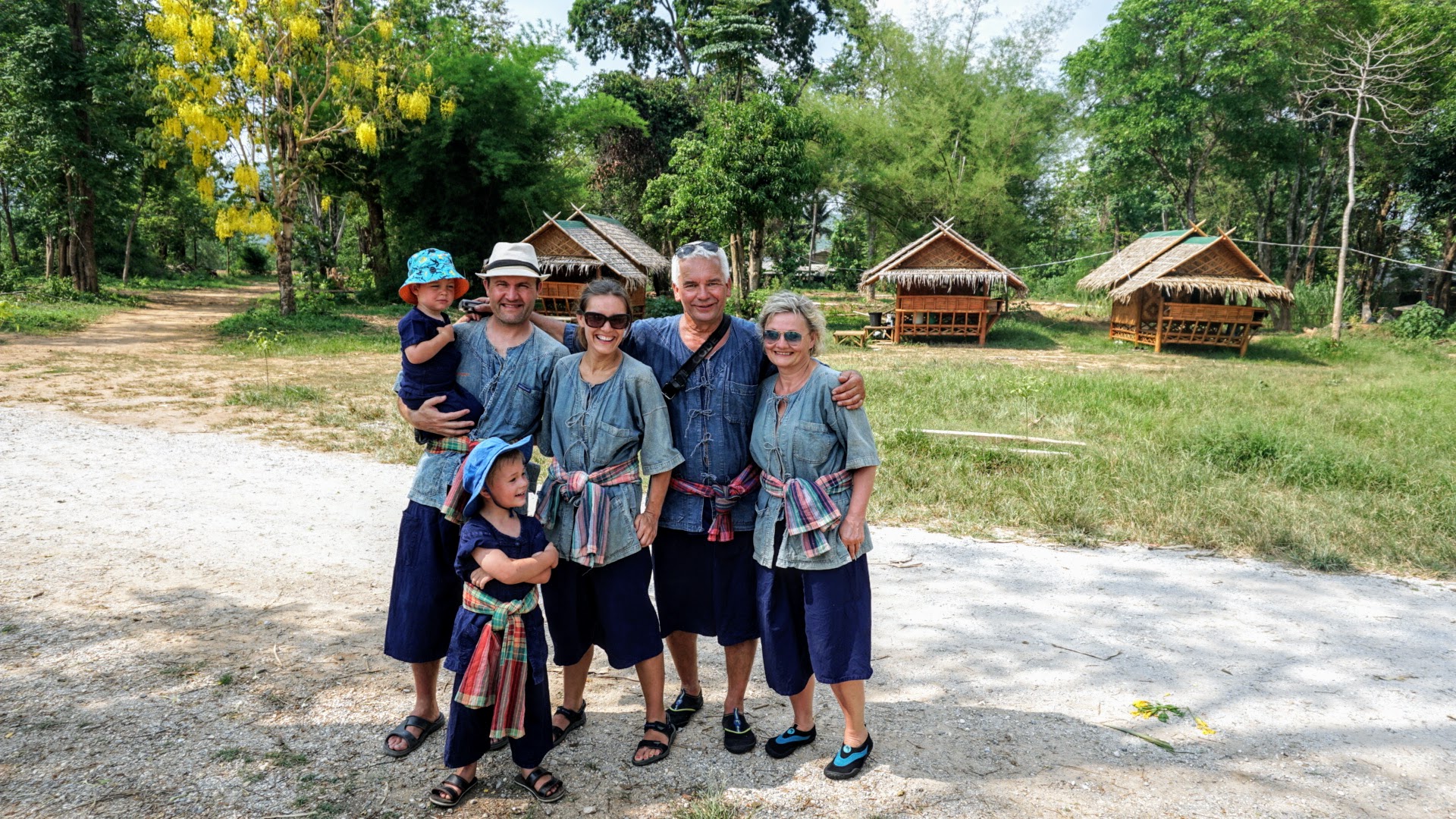 For more info about traveling in South East Asia , check out: