Catching sunrays in Cayo Coco
Catching sunrays in Cayo Coco
Although not our most preferred way to travel, there are times when we  book all inclusive vacations,   even if only  to get away from cooking and cleaning and enjoy cold coco loco on a nice sandy beach.
Interestingly, even the least hassle free vacations appear to take me lots of time of researching and prepping for. Nice beach, child friendly resort, safety, things to do beyond a resort are some of the things I am looking for when planning a trip . What is interesting is that have we had been to several popular Caribbean countries, including Dominican Republic, Cayman Islands and Mexico before  hesitantly we booked Cuba.It is not that we had anything against Cuba at all. Instead,  we were jaded  by many "horror" stories from my friends about vacationing in Cuba, with the most common complaint being bad food. So here we were , already travelled to Asia, South America, Central America, Europe , Caribbean but didn't visit the most popular beach destination for Canadians :).
After being advised only a week before our trip that our original hotel was overbooked, we decided to just let it go and take it for what it was. After all,  we were going to a warm country in the middle of January while our grass in Canada was covered with over a foot of snow.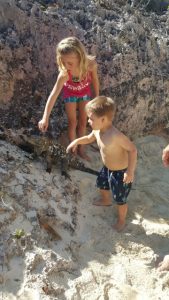 About the resort I will just say this – it is true what people say, 5 star in Cuba is not the same as 5 star anywhere else . However, if this is the only thing that visitor to Cuba will focus on, they will miss the true story behind Cuban, and particularly Cayo Coco,  resorts:  the struggles of resort workers who travel for hours every day from mainland to make your morning omelette, the story of the animacion team with performers sleeping on the theatre floor after the curtain goes down and visit their homes once a week, portions of food given to Cubans by the government- all of this to make a living. So,  when the animacion team came on the stage and sang " Heal the World" , our hearts sank and the guilt of privileged tourist came over us.
Heading to Mainland
To educate ourselves a bit more on Cuba and to observe Cuban life , we decided to do a little exploring and booked a tour to nearby mainland towns of Moron and Ciego de Avilla. What an eye opener!  We have been to many places around the world, but Moron town is definitely one of the poorest places we have visited to date.  Although it is hard to overlook the poverty of this place, the old architecture and the resiliency of people living there is nothing short of incredible. I hate to say it , but if not for Moron, we wouldn't know how bad things can be in Cuba.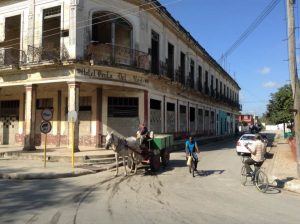 While walking through Moron town was a somewhat uncomfortable experience, we felt almost immediately at ease in the colourful city of Ciego de Avilla. Larger and more affluent than Moron, we were able to independently walk the streets without being asked for money or our hats.  In spite of tours organized to Ciego de Avilla, we couldn't help but think that our bus was the only one that was running that day.
Overall, we loved this day trip to see the mainland, Surprisingly, even though it was a long day packed with activities,  my, then, 3.5 year old loved it. In between the towns, he got to go on a speedboat and drive it in the mangrove forest. At the alligator farm,  he helped us hold a baby alli and sat on a giant buffalo, we visited sugar cane factory and he climbed old steam trains, but his highlight of the trip was  spotting flamingoes along the way.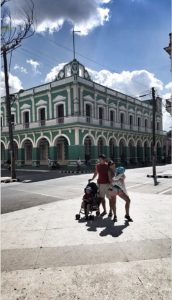 So, for those afraid to visit Cuba because of their friends' "horror" stories, GO and see for yourself. Cubans are very welcoming and joyful people who will make sure you have great time. Despite the hardships these people experience, they are genuinely happy you are there and will make you feel like a good friend.