First backpacking trip with a toddler
First backpacking trip with a toddler
So, you decided to take your little one backpacking, CONGRATULATIONS!! To get to this point alone, chances are you have already received some raised eyebrows from your family and friends who start to think you are totally crazy.  Let's face it, backpacking with young kids is not easy. However, it is totally doable and even enjoyable with just a little extra preparation.
Lessons learned from our first Asian backpacking trip  with a toddler:
Make your first hotel a bigger one and with a lobby to allow your child to burn off some midnight steam
By the time we arrived at our Tokyo hotel, we had traveled for over 24 hours and used nearly every imaginable mode of transportation – car, bus, train, plane and taxi .  Little A. was getting tired and restless at the same time,  so when we arrived after 8 pm, we really hoped that he would sleep well.  Not a chance! For the first week of Japan, Little A. was up every night around 1:00am and wanted to party!  As much as we appreciated our cozy hotel  in Assakusa area, every time he woke up at night, we were worried that he would wake the rest of the place up ( as he ended up doing in Kyoto few days later) and to avoid that, we spent hours strolling the streets of Tokyo in the middle of the night.
2. Do not overpack, unless these are diapers
Backpacking with a toddler who is not yet toilet trained is an adventure in itself.  We found diapers in Japan and Thailand to be relatively easy to find and of good quality. However, it was nearly impossible to find a big pack and there is no such a thing as swim diapers. So, ditch your clothes if needed ( you can always buy them fairly inexpensively) and bring swim diapers with you instead.
3. Giving your toddler some independence with harness
This was our true life saver whenever little A. wanted to walk around busy Tokyo. In fact, he did end up crossing the world's busiest intersection, Shibuya crossing , on his own feet while wearing a harness!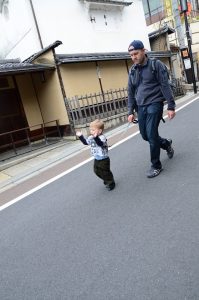 4.  Pick your stroller wisely
It is probably the obvious tip, but pick a light, one-piece umbrella stroller which folds easily and can be easily thrown on your back if needed. If your stroller doesn't come with a shoulder strap, make one with a yoga mat strap.
5. ALWAYS have extra snacks ready.
Whether you speak the language or not, take public transport or  arranged transits, things tend to take way longer than you expect it. That extra rice cake can prove to be a lifesaver and even prevent a temper tantrum when you most need it.