Lower Silesia ( Dolny Slask)
Lower Silesia ( Dolny Slask)
It's never easy to be objective about your own country. After all , this is the country we grew up in and have adopted some of the norms and customs to the point they don't feel strange or different.  It is also a country where from time to time we get a chance  to take a break from our kids and do some of our own exploring that would be too much to handle for our boys'  little feet.
So, because of the convenient location of Lower Silesia, growing up in Europe was quite an adventure. Just to give you an idea,  for grade 7 trip our class went to Vienna for three days while my summer camp in grade 6 was in Denmark . No one in my area was surprised that our fathers worked in Germany, and that at age 8 I went for a week skiing camp to Czech Republic. We were  essentially raising  global citizens from the crib ( and we are talking about times when the borders were still in full effect)!!
Last summer, with kids enjoying their time with grandparents, we decided to play tourists in our own backyard for 4 days. We have never driven for more than 120km from Jelenia Gora, but the experience was nothing short of incredible!
Note: I would strongly recommend visiting Poland in late Spring or Summer as the weather has changed considerably over last decade and currently resembles more of the one of England, than the country with four distinct seasons I remembered from my childhood.
THINGS TO DO IN LOWER SILESIA :
Hiking in  Karkonosze mountains
Whether a total newbie or an avid hiker, there is no shortage of hiking trails in the Karkonosze area .
For those who want to challenge themselves,  I recommend finding accommodation in Karpacz or Szklarska Poreba mountain resort and do the 25 km hike from one mountain resort to the other.  The hike through the mountains is very picturesque with the trail going back and forth through both Poland and Czech Republic to finally finish in Szklarska Poreba ( if starting from Karpacz), Poland. When done in mid to late Summer,  one can nibble on delicious wild blueberries along the way. Also, don't skip on having some traditional Polish specialties at the hostel Odrodzenie. While we haven't stayed there overnight, we can honestly recommend their restaurant.  Our pierogies, schnitzel and flaki ( intestine soup) was FANTASTIC !
There is  an option to somewhat help yourself by taking a chair lift to the top in Karpacz  and then down from the Szrenica to Szklarska Poreba. However, when we visited in July , the weather got progressively worse and event hough the Szrenica chair lift was supposed to be working till 5pm, due to bad weather conditions , it was closed earlier and we had no choice , but to walk all the way down to Szklarska Poreba.
Note:  There are many kids hiking this trail,  but most seem to be  school age and are doing a shorter hike from Karpacz to Samotnia or to the peak of Sniezka ( highest mountain in Karkonosze) and back.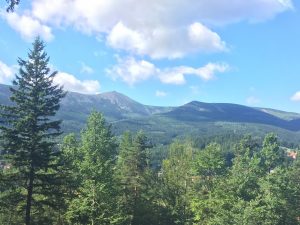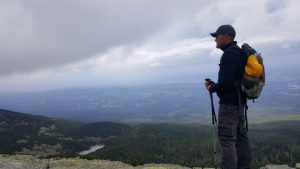 One of my favourite trails we did with the kids during our recent trip was  to the Sokolik peak from Szwajcarka hostel ( for a bigger challenge, park  down near the paved road). With Little O. strapped in the baby carrier and  A. on his feet, we managed to do  4.5 km to and from Sokolik peak. What appeared to be the most exciting part for our 4 year old, however,  was not so much the hike, but the " forest treasures" we kept on finding anywhere we went. A. was in awe with the wild blackberries, blueberries and then mesmerized by the ability to pick edible wild mushrooms .
Note: the twirly staircase leading to the top of Sokolik is not for faint hearted and the safety barriers are as good as none.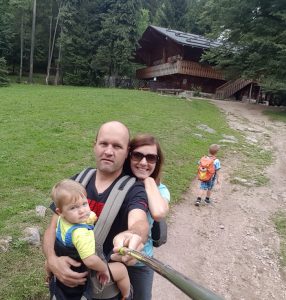 2. Pretend to be royalty in Lower Silesia Countless Castles and Palaces
Maybe it's the picturesque mountains, or the fact that Poland is the Centre of Europe, but at some point, Lower Silesia was  home to some of the richest families in Europe. As a result of that, it is nearly impossible to go for 10-20 km without seeing any palace or a castle.
Some of my favourite castles in the area:
– Czocha Zamek ( child friendly)
– Ksiaz Castle
– Grodziec Castle ( very child friendly)
– Karpniki Castle
* Wojanow Palace- I have a  love-hate relationship with this place as the restoration left this palace looking more like a cinderella castle from Disneyworld than the European Palace it once was.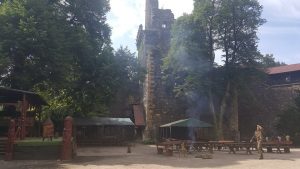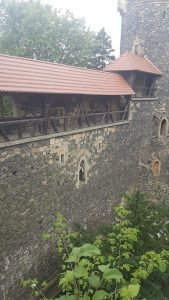 3. Visit local waterfalls
There is something really special about waterfalls that seem to draw people in. And we are no exception. Our kids love water and are mesmerized by waterfalls. It has become sort of a tradition to  take a short trek to the Szklarka waterfall  which despite being fairly small, has a very comfortable and beautiful path leading to it that is suitable for little feet.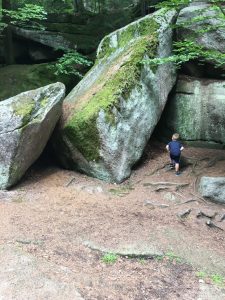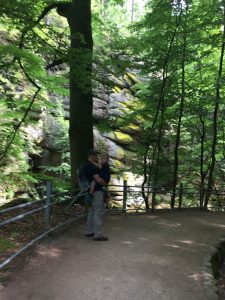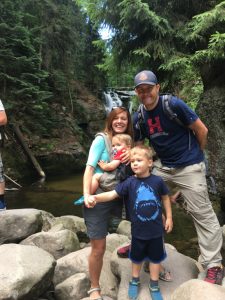 4. Tame your need for speed with  summer bobsleds
This is such a must-do when visiting Karpacz mountain resort! Speed, mountains, a bit of living on the edge feeling makes this attraction very refreshing after a day of hiking or castle hopping.
We actually never expected our 4 year old to actually go bobsledding as he anxiously watched every adult in our family go and only then he decided that he would do it with his grandpa. Once he went once, he loved it  so much that he didn't want to stop. Note: To save some money, I recommend buying a pass of 5 or 10 rides and use it among all the family members.