Magic of Kyoto
Magic of Kyoto
Months later and  I am still trying to figure out the secret behind Kyoto's appeal  and the first thing that comes to my mind is MAGIC.
.
Let me just start from saying that ever since we decided to go to Japan, we were going back and forth trying to decide whether or not to include Kyoto as per of our itinary. We were worried about the travel time and the cost as the train travel in Japan can be quite pricey. Nonetheless  we heard some amazing things about Kyoto and felt that this is something worth investing it, even when being on a budget.
Our journey from Tokyo to Kyoto on Shinkansen was far from perfect. Little A. got violently sick while on a train and his illness lasted next two days , which sadly was our entire time in Kyoto. In spite of baby vomits and sleepless nights  somehow we still managed to make the best out of it.
One of our hopes going to Kyoto was to stay in a traditional ryokan and see Geisha; we were also quite conscious of our  budget as we had two more weeks of travelling ahead of us. We researched best areas in Kyoto to spot Geisha and chose our accommodation accordingly. While Gion is traditionally known as the geisha district, we stayed in historical Higashiyama-ku district which, to our surprise , provided us with incredible opportunity to see geishas heading in the evening to their tea ceremonies.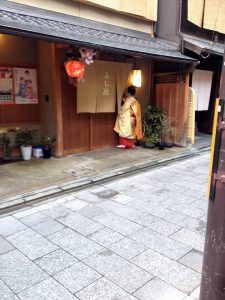 Looking from the perspective of time, the decision to stay at a traditional ryokan with a toddler only few days after arriving in Japan was probably not the smartest. From what we now understand, one of the features of traditional ryokan is LITERALLY paper thin walls and doors that do not filtrate any noise. As at the time we visited Kyoto, Little A. was still trying to get into the Japanese time zone , he would wake up in the middle of the night unappologetically ensuring that the entire ryokan was  up with him…My sincere apologies to all those who stayed with us . Nonetheless, as per Japanese good manners, the elderly lady running this place never said anything and instead each morning brought fresh strawberries and other treats for our  boy.
Going back to the magic of Kyoto, in spite of its large population ( almost 1.5 mln), we felt that Kyoto has somehow managed to preserve the small town feeling , or maybe this is just the impression one gets after visiting Tokyo? We were blown away by the countless temples, historic alleys, delicious food for super cheap available in any hole in a wall and then the tiny luxurious boutiques that made their selling products  ( including gummy bears) look like you entered  Versace store!