Mekong Delta – the rice bowl of Vietnam
Mekong Delta – the rice bowl of Vietnam
We knew that visiting Mekong Delta was on our "must do" list in South Vietnam. We also knew that we didn't want another cookie cutter tour that for 30$ takes you to all the touristy places around Can Tho in 4 hours before putting you back on the bus for another 3 to get back to Saigon. Our hope was to experience Mekong Delta by staying with a local family and getting a glimpse of actual life in Vietnam. Our challenge- sleep deprived family with two children under 5.
Given our challenge, I am so glad that we found our guide, Susan, who was able to provide us with more authentic experience of the Mekong Delta without breaking our budget.
DAY 1
Couple weeks before our arrival in HCMC Susan sent us instructions on how to get to BINH minh and it looked something like this- take a taxi to the bus station where you will be provided with a shuttle that will take you to the bus station where you will get on a big bus for a three hour ride :). Two children, four adults and four backpacks; from that instructions alone, we knew that this trip will be unforgettable.
Binh Minh Area
After a 3 hour bus journey to Binh minh , we were greeted by Susan who together with her dad were waiting to take us on a boat ride through the canals. With the traditional vietnamese hats on ( yes, you will still see people wearing it in rural areas), we rode to a small village where we got to see how small businesses operate in Vietnam. It appeared that every house in that village had its own business, whether it was lettuce seedling, rice factory or roof making service . Although many of those businesses look like they are meant only to sustain the family, there products frequently supply entire village.
Market and Temple
From there, we headed to the local market to purchase groceries for our dinner. While Susan was suggesting pork , after seeing meat hanging on the clothesline in 40C for probably hours, my mom kindly declined and asked for fresh fish instead. Our boys loved the seafood market portion and the entertainment the merchants provided them with by showing them different sea creatures. Their city side quickly kicked in , however, when they were offered to hold a fish and a prawn.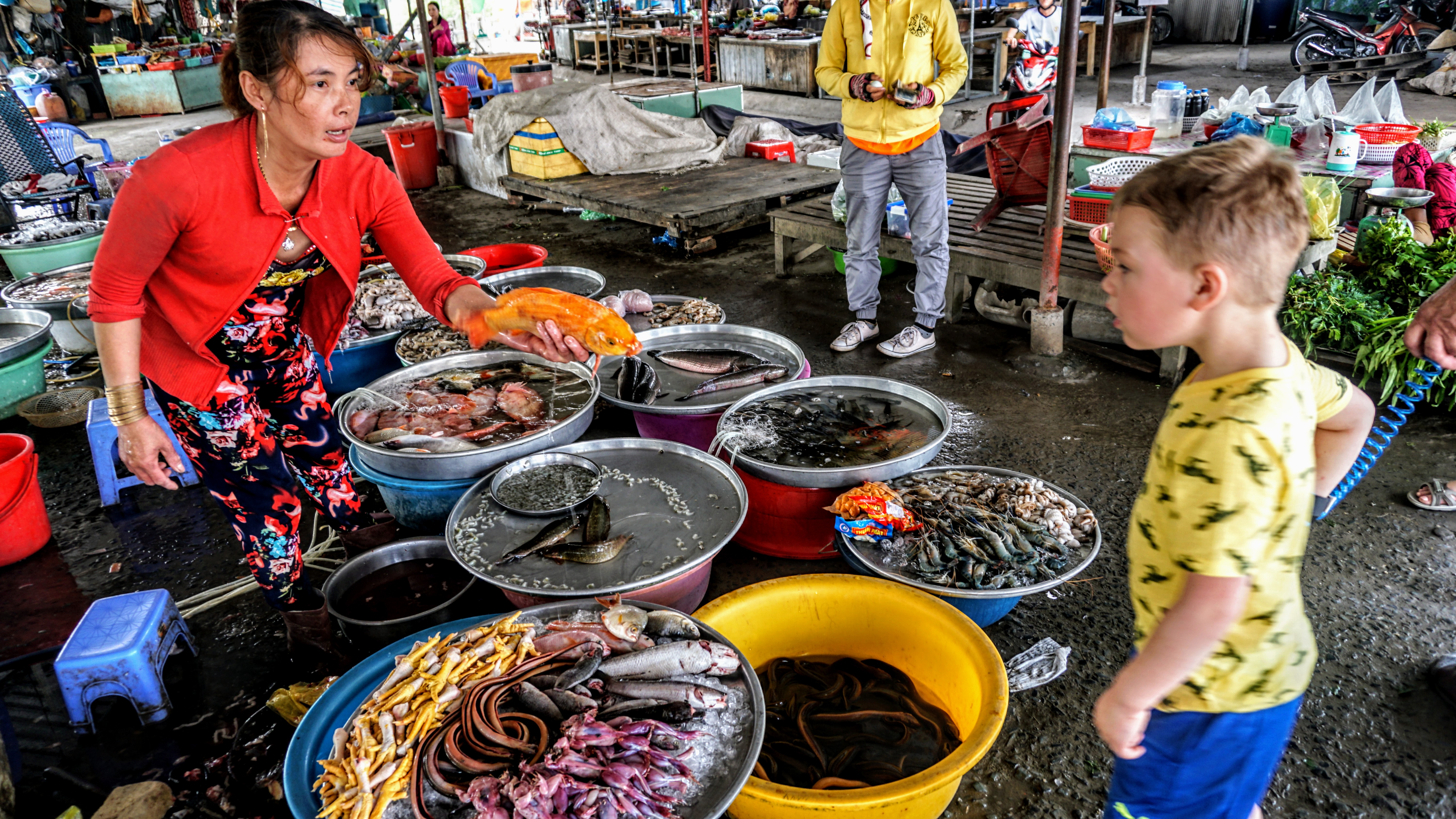 By the time we got to the Khmer temple, the children were so overtired that involuntarily we switched on damage control mode. While the temple was absolutely stunning, our focus at that point was entirely on ensuring that the kids won't commit any offence at this holy site. Fortunately, other than couple monks sweeping the ground with a homemade broom, we were the only tourists visiting the temple's grounds.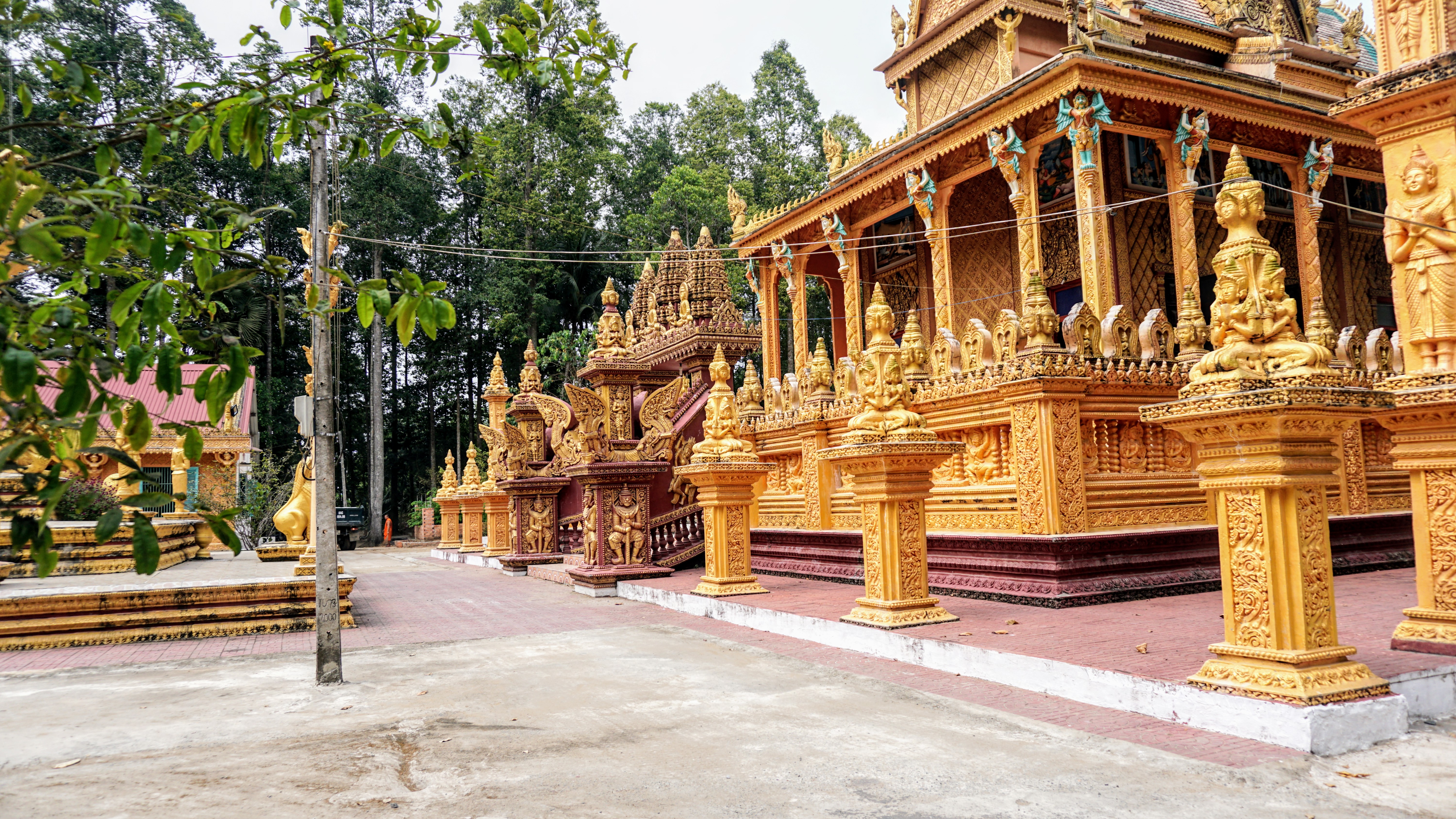 Susan's parents' home was only 10-15 minutes away from the temple by boat. By Vietnamese standards, the house appeared to be big with a living room that had huge bed for grandma, dining room where Susan's bed was located whenever she stayed at her parents, three tiny bedrooms able to fit a bed and a closet, bathroom and a kitchen. Although the parents were also staying at the house, they appeared to sleep outside that night :). My favourite place in the house was the kitchen. The room itself was of a good size with a table to prepare food in the middle. There was no fridge and food which was cooked outside was stored in a regular kitchen cupboard.
Dinner Time
After a bit of a break where we enjoyed family's garden with hammocks, coconut water and delicious fresh fruit, Susan invited me and my mom to help out with dinner.
Initially, I was asked to help out with shredding coconut ; however, even though I thought I was doing a decent job, it was evidently not up to Susan's standards as she quickly took the shredding utensil from me and began to shred it herself at speed at least twice that of mine.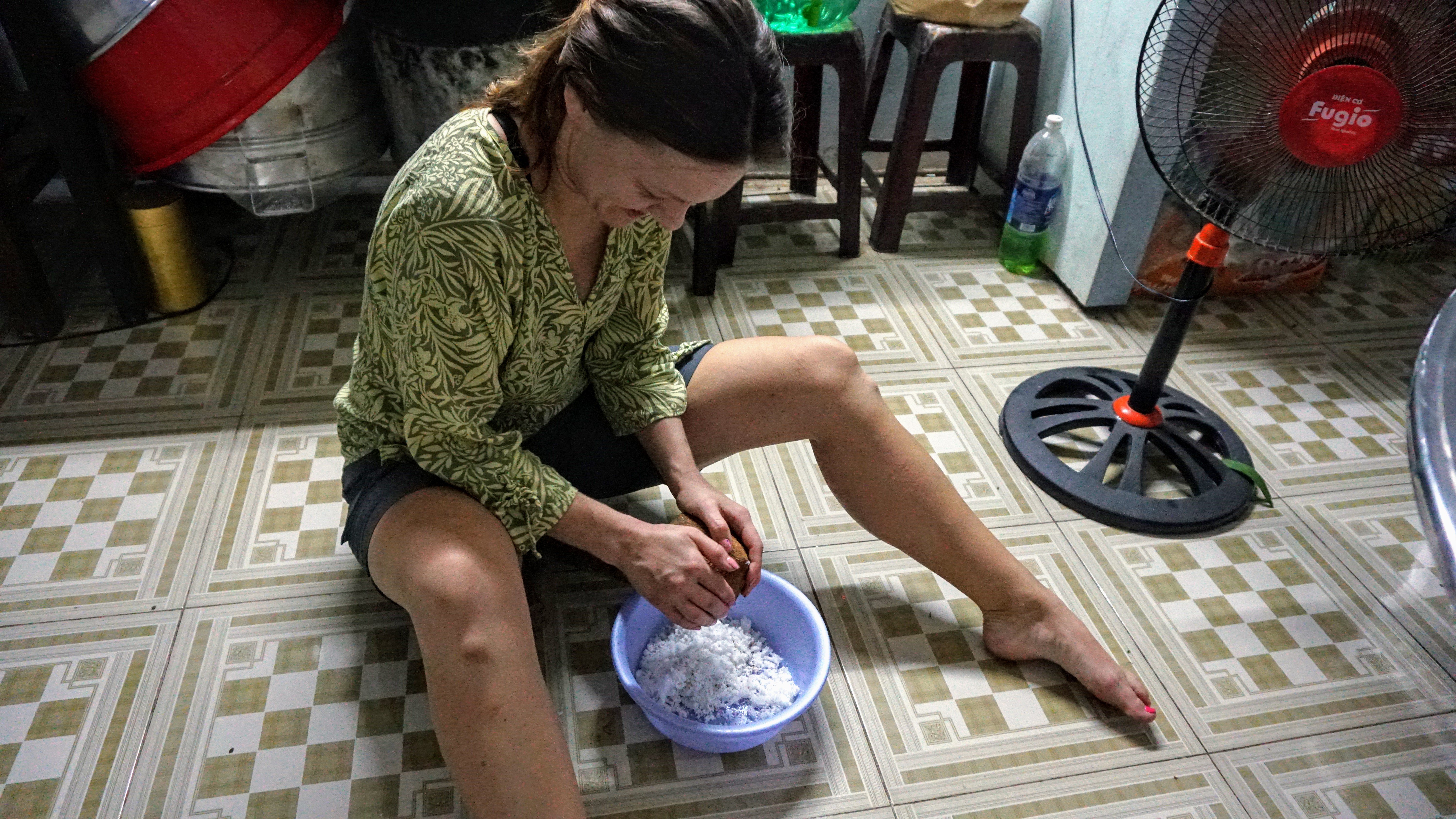 I must say that I was quite relieved that my boys fell asleep when Susan told us we were going to make a cake. Used to soft angel cakes with delicious, sweet cream or custard, I went through a true culture shock when Susan handed me leaves of a jackfruit and asked me to spread previously made by us coconut rice paste all over them. Steamed , rolled and then dipped in coconut milk, the "cake" was nothing like I have ever eaten.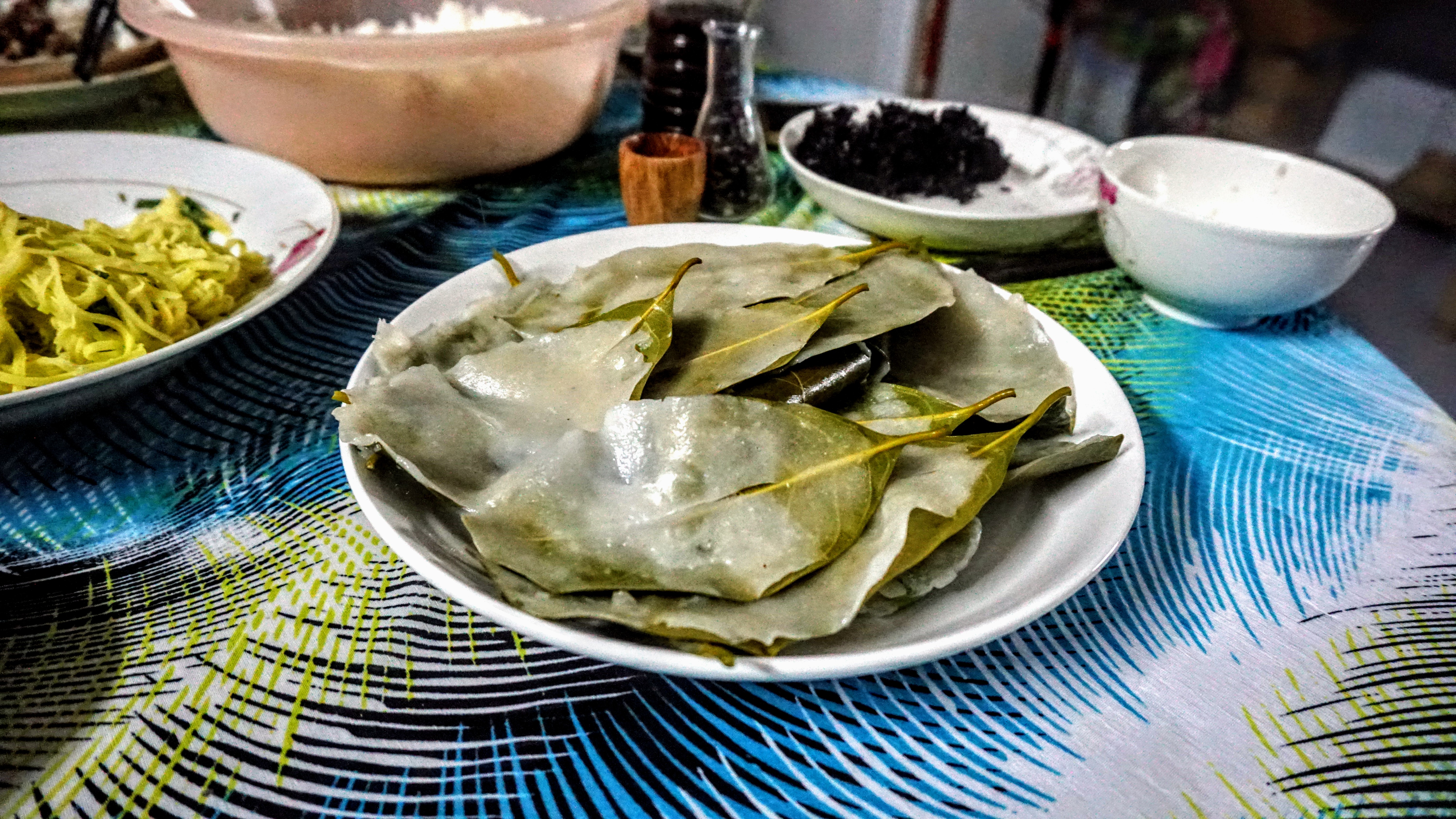 Approximately 15 minutes later, we were all sitting down to a feast of cooked fish, eggplant, salad, steamed rice ,Vietnamese cake and grilled RATS. According to Susan, the rats that her family eats differ from the city rats we had seen in Saigon. As the rural rats eat exclusively rice, they are considered cleaner than the city rats . Nonetheless, that didn't convince Paul or my mom , but both my dad and I felt like this was probably going to be the only opportunity to try this rodent, unless, of course, we were brave enough to go hunting in Saigon . Once you finally get over the fact that you are eating a rat, the meat itself is actually surprisingly okay tasting. In addition to being a source of protein for farmers, some believe that rats have medical properties when cooked with herbs. Grilled rats are usually served whole with a head still on , however, the field rats are much smaller than their city relatives and therefore there is not much meat on their bones. For better digestion, we chased the rat meat with a shot of homemade rice wine prepared by Susan's dad. Even Susan's grandma, who was only couple years away from her 90th birthday, joined the party and had a shot with my dad.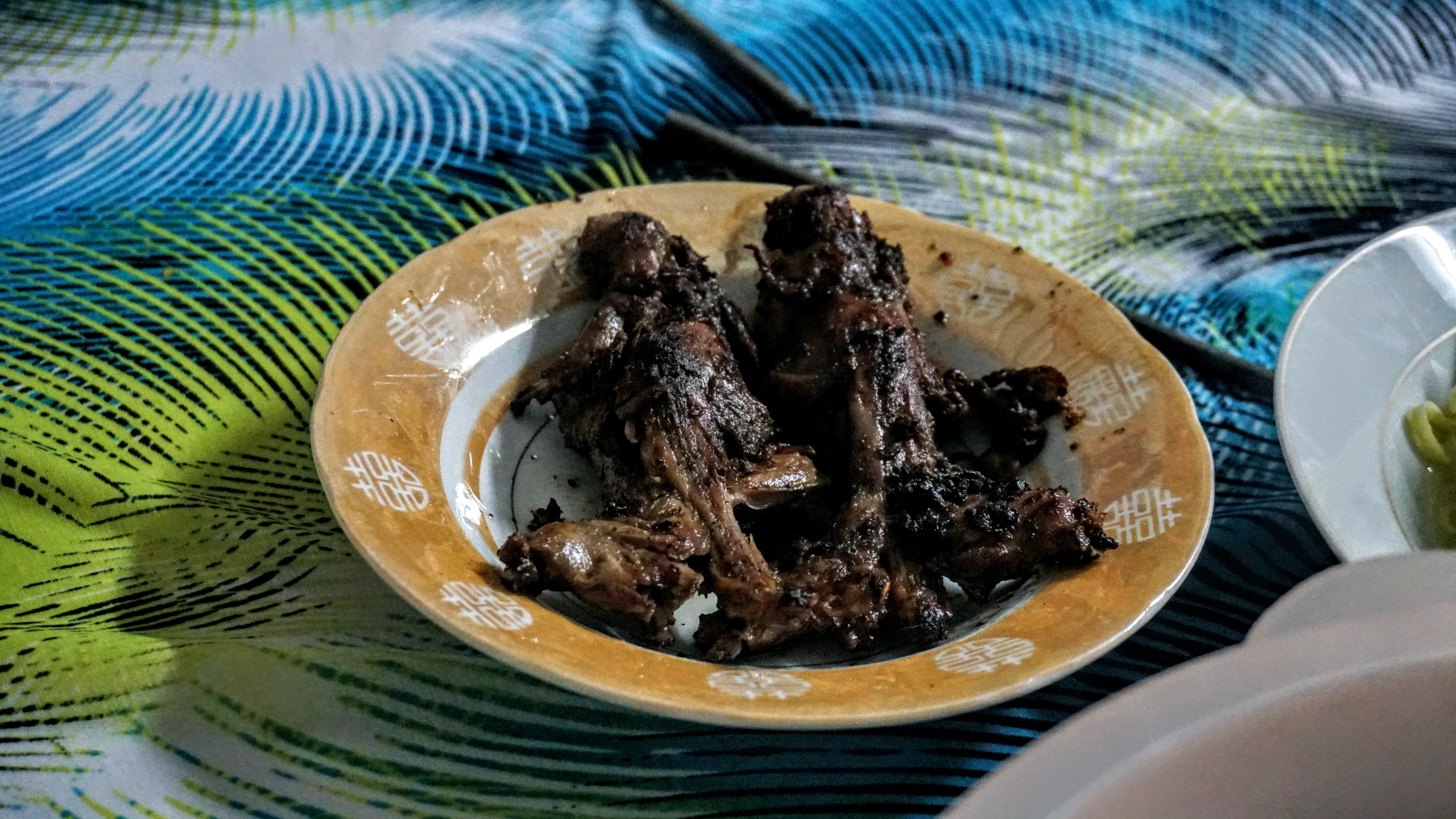 DAY 2
Cai Rang Market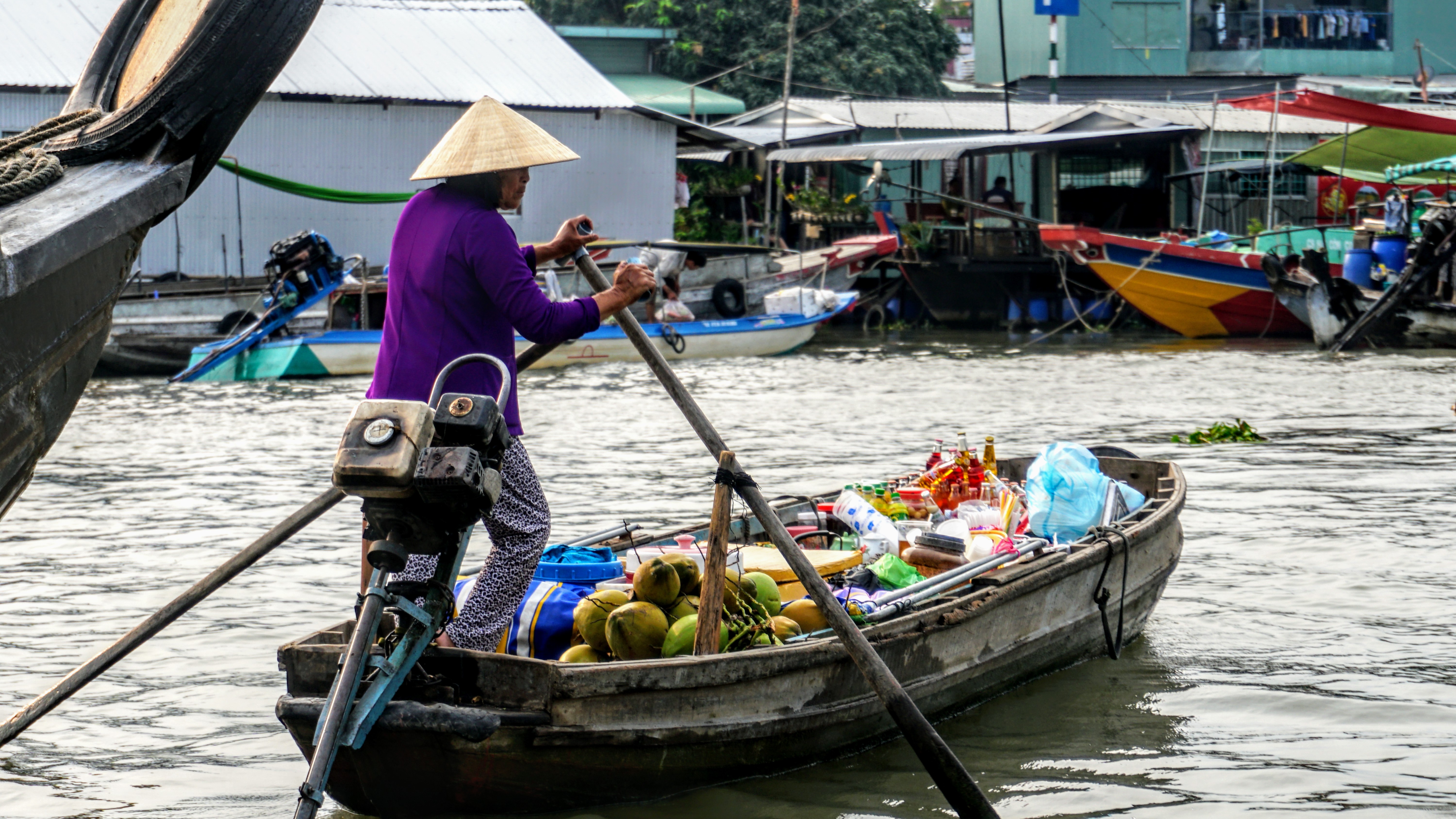 Although the night was rough as kids were up at 11:00pm and didn't go down, they were surprisingly well behaved ( for my kids at least )the following day. We started the day with a boat to the floating market Cai Rang in Can Tho where we enjoyed a phenomenal bowl of pho served from a floating boat restaurant. The whole process is very smooth: you pull up in your boat to the floating restaurant, order your meal and minutes later receive a ceramic bowl of delicious noodle soup. Your boat is steered away from the restaurant so that other clients have a chance to purchase their meal. Once you are finished, the boat pulls up again to the restaurant to return empty dishes. The whole process is nothing short of fascinating.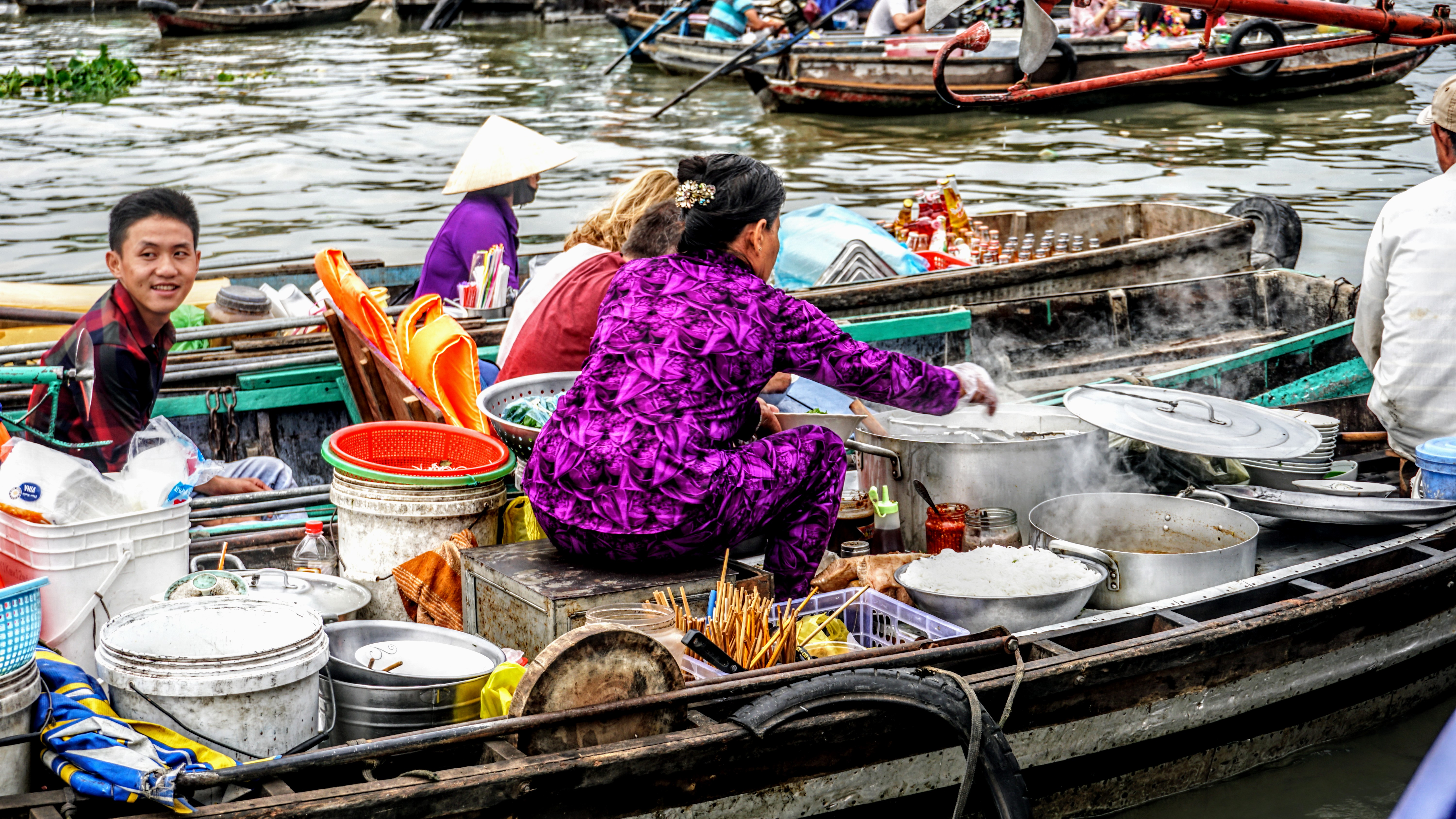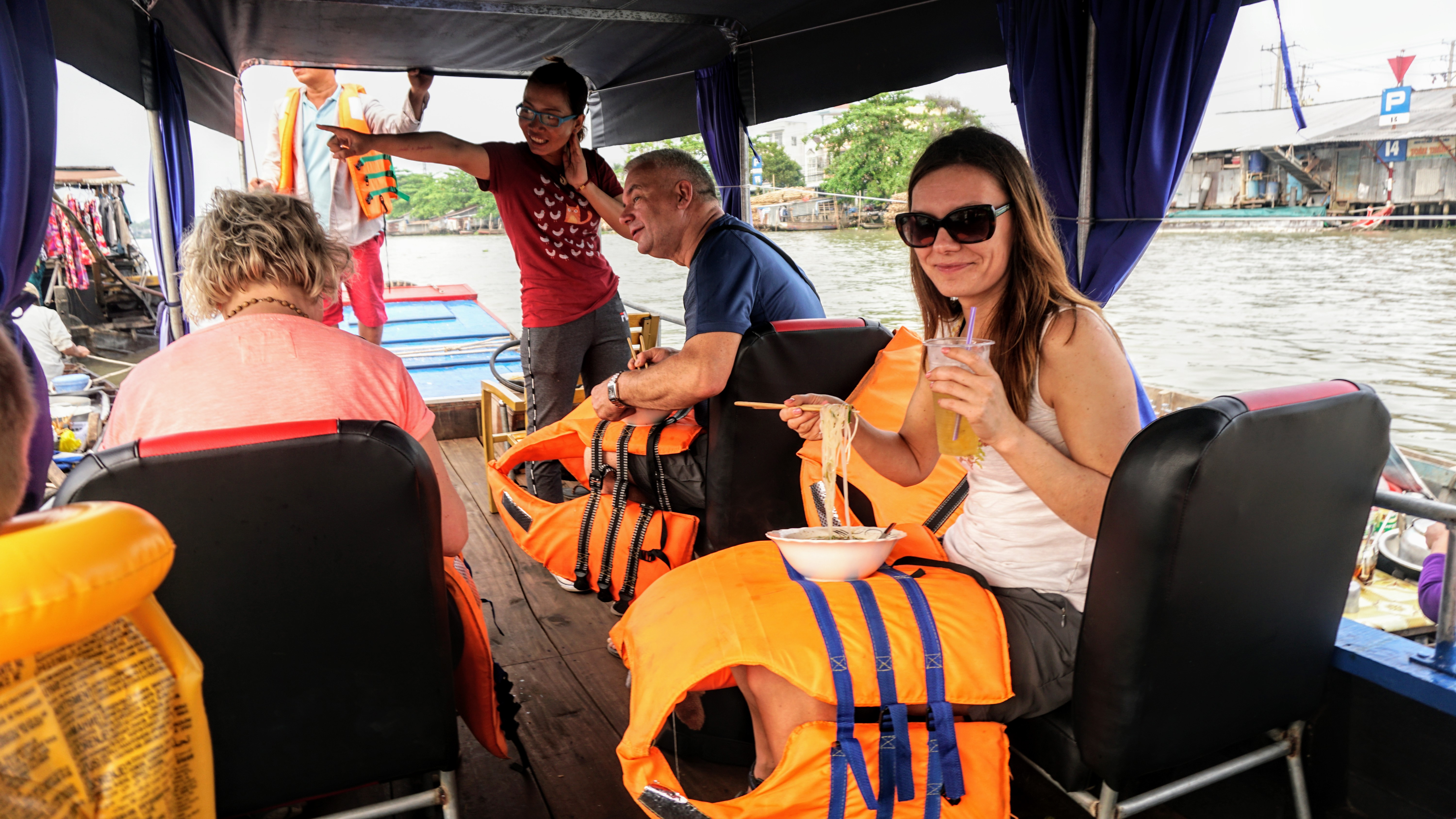 For those familiar with colourful Damnoen Saduak in Thailand, Cai Rang is everything Damnoen Saduak isn't as it is geared toward locals and not the tourists The floating market is an actual market where locals purchase their produce. Although you will find boats with tourists, these are mere observers of the normal Vietnamese life. To advertise their products, merchants have long sticks mounted to the front of their boats displaying produce available for sale. I strongly recommend bringing your own life jackets, especially for the children as the children's sizes were not available and the adult sizes were defective.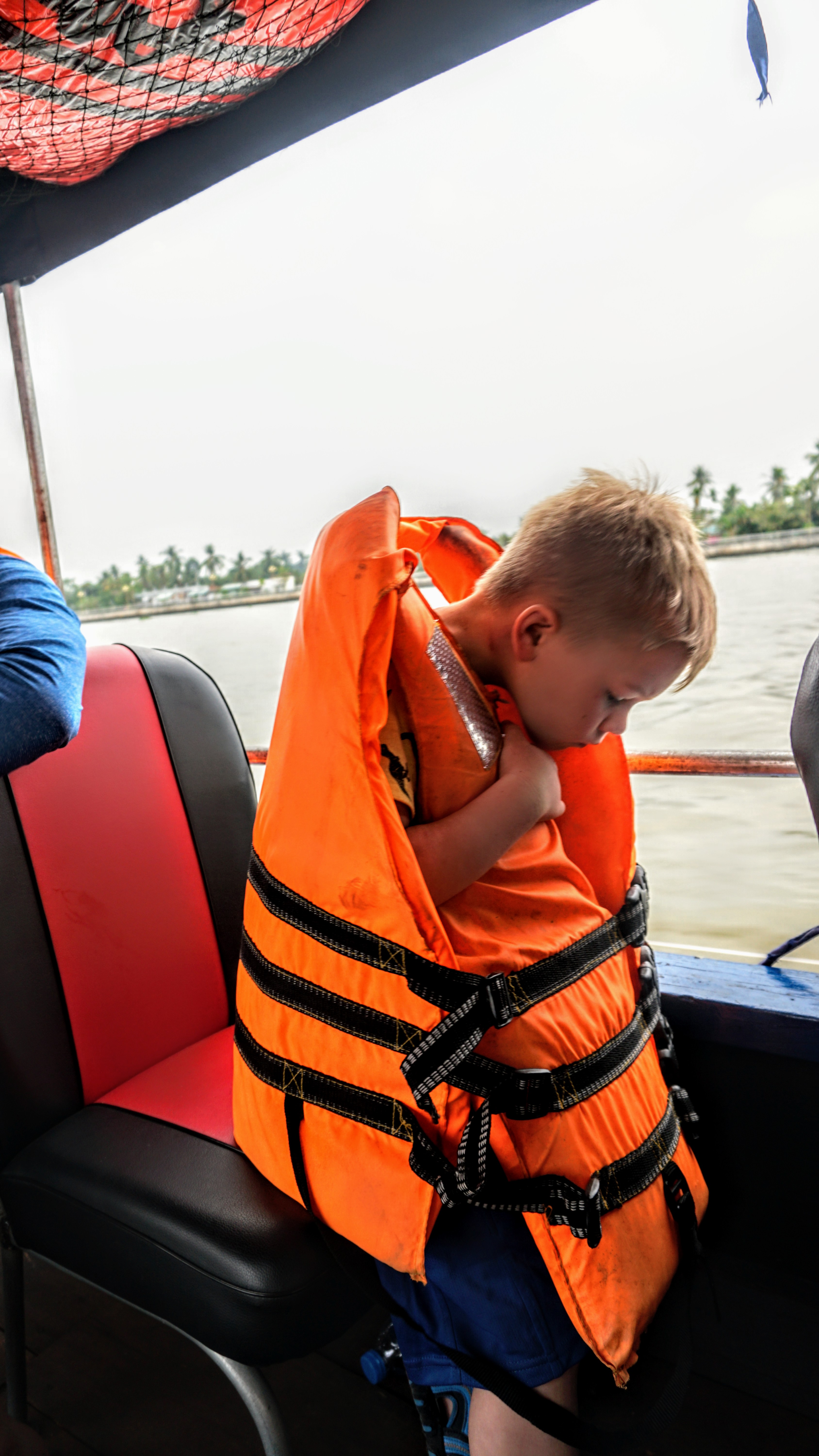 Rice Paper Factory
Short boat ride away from the floating market is the rice paper factory. Although we were not really sure what to expect, our boys loved participating in the process of making rice paper , helping transfer it to the cooling rack and then shredding already dried rice paper sheets into rice noodles. It is hard to comprehend that the rice paper we buy in North America is made in tiny factories like the one we visited where the racks with cooked rice sheets are brought outside and placed under to hot sun for a day to dry.
Step by Step Process :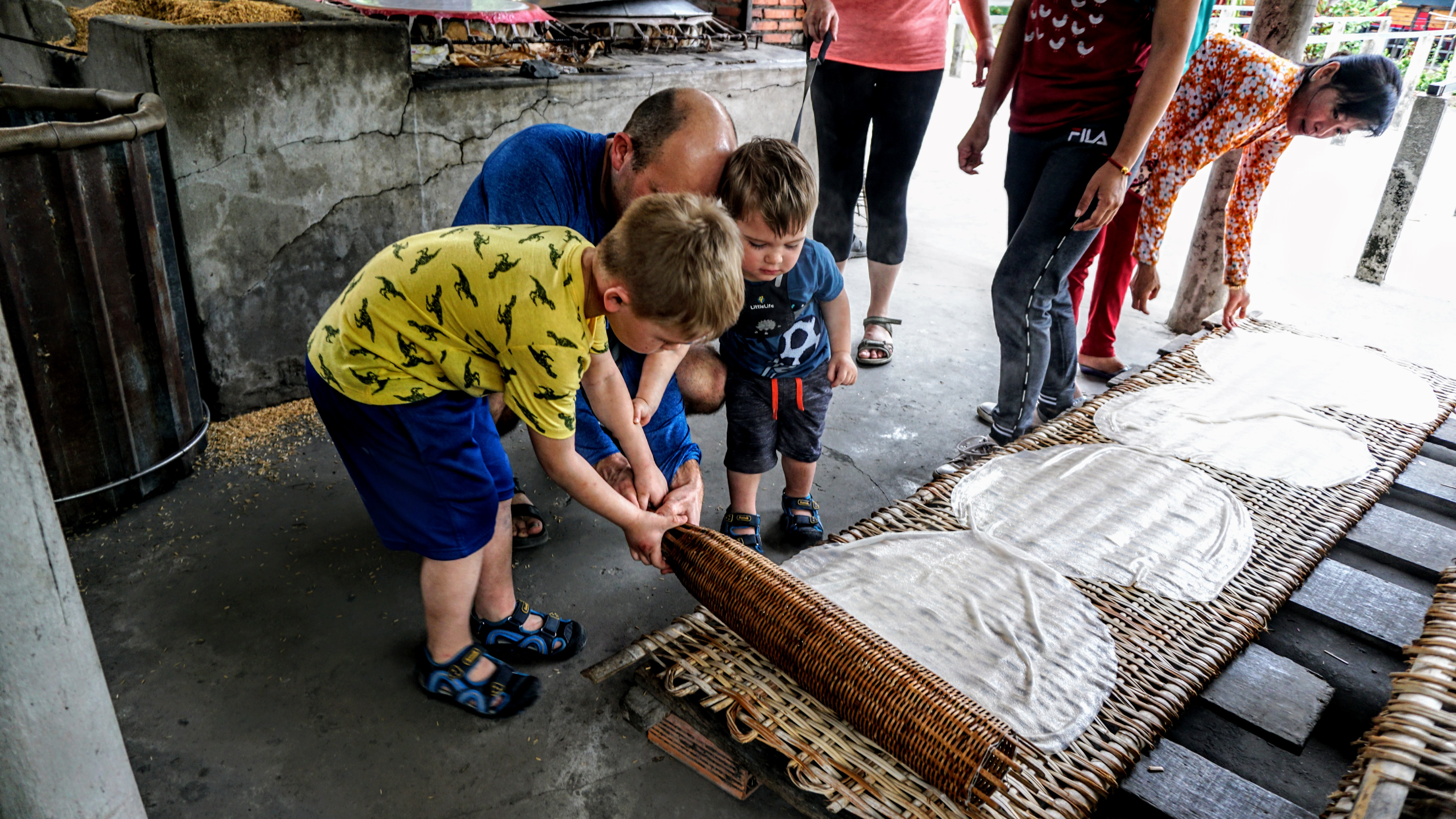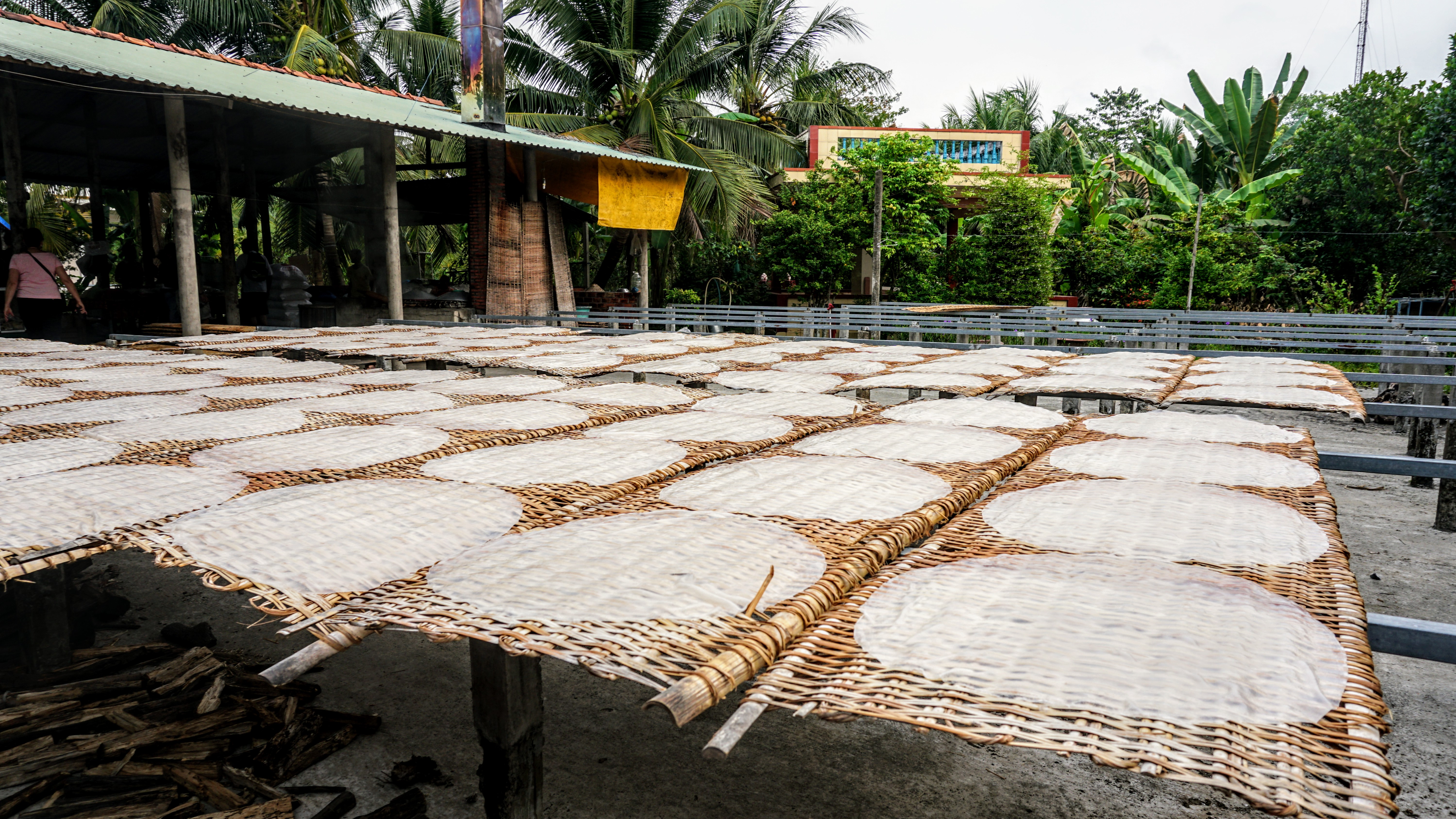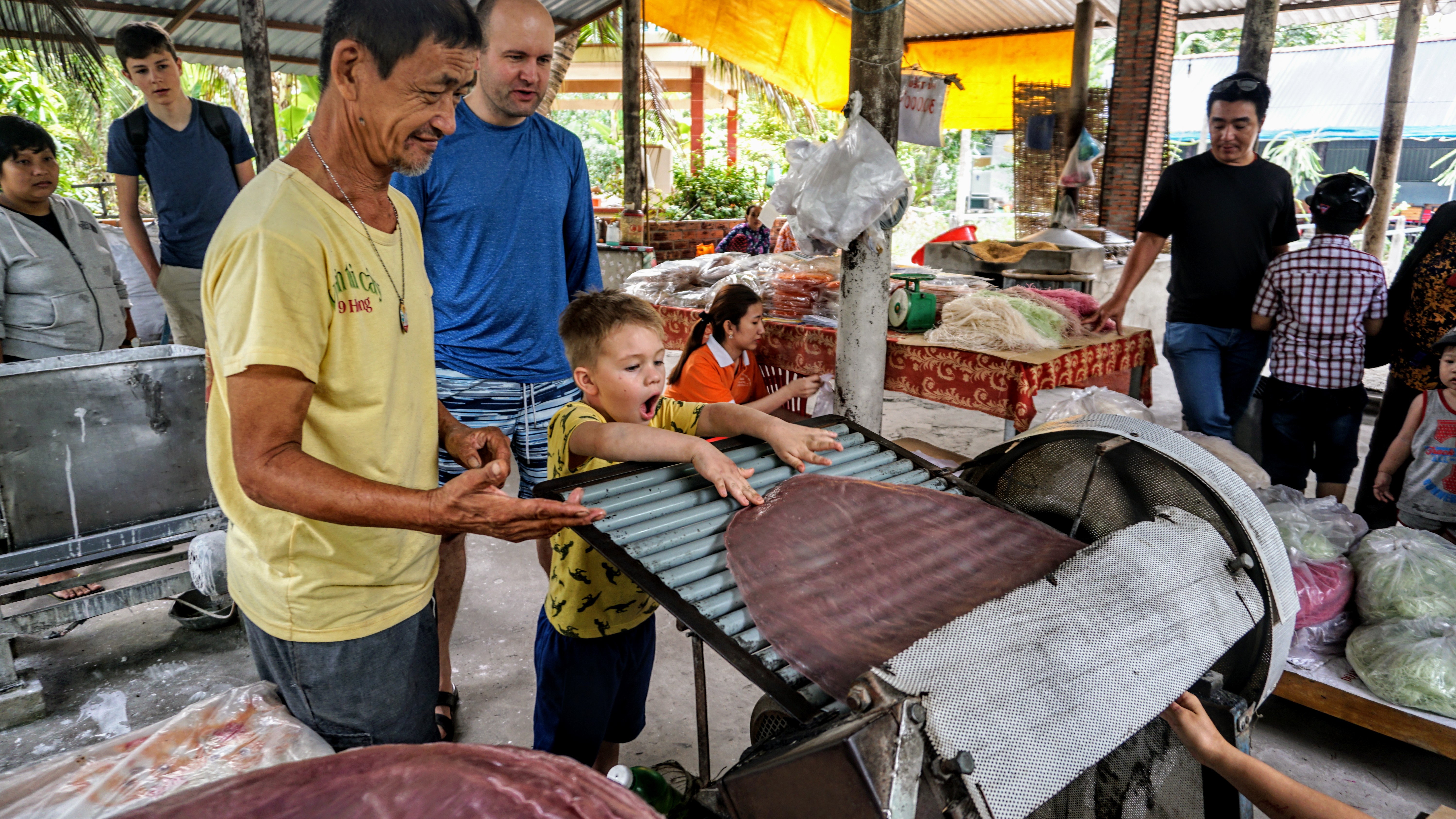 Fruit Orchard
Finally, our last stop of our Mekong Delta tour was a fruit orchard. While we were able to identify some , like mango, pineapple, dragon fruit or durian, majority of the fruits we have tried for the first time. We all fell in love with the Fruits of Vietnam. The variety, rripeness, and perfect balance of sweet and refreshing makes them one of the best fruits we have ever eaten.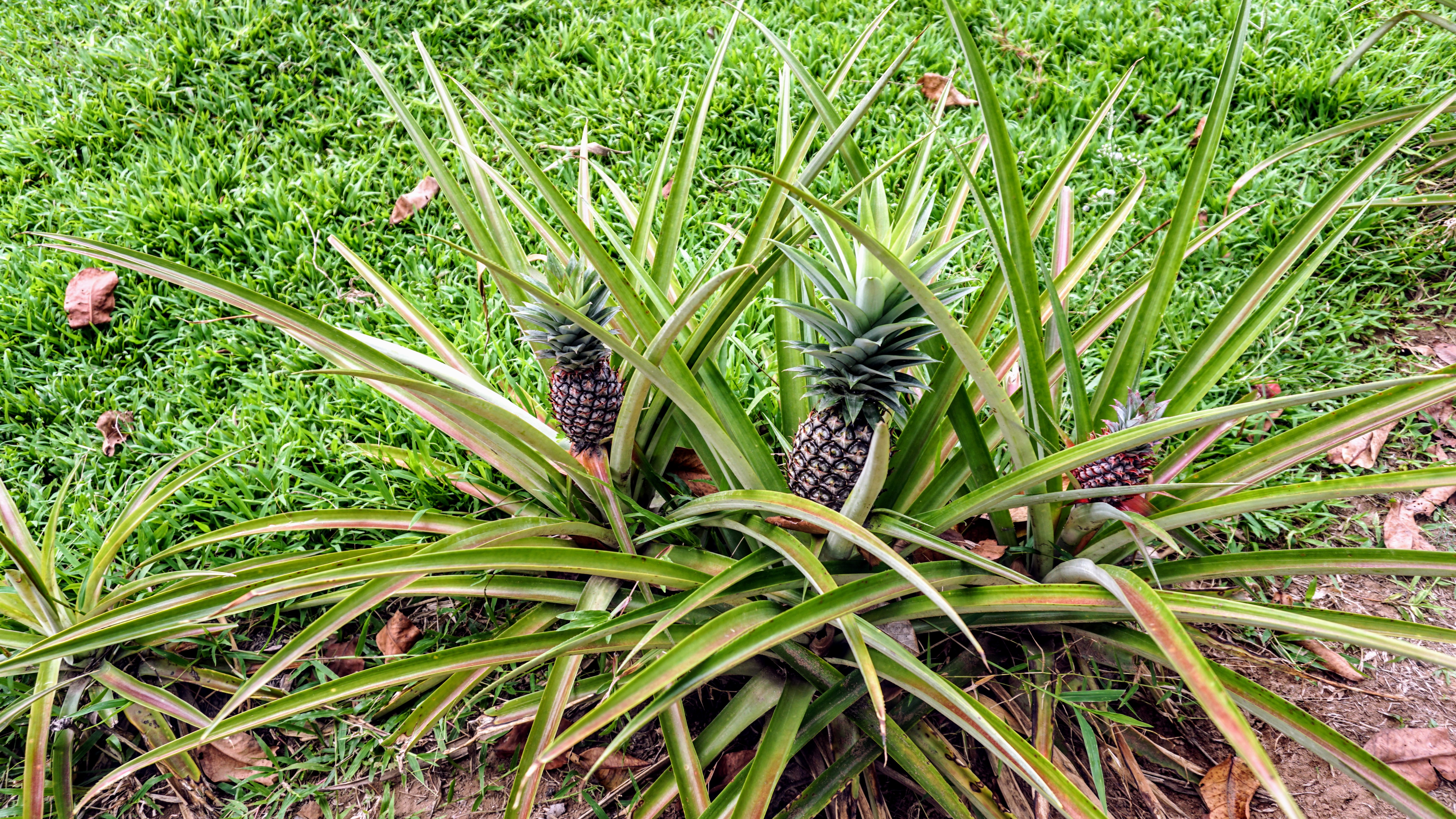 GIven that we did this overnight tour only three days after arriving in Vietnam, on only 1-2 hours of sleep a night with two very young children, I don't think we could have done better. As our 4 year old constantly challenged Susan, wanted to lead the tour and ,at times, was trying to drive us crazy, Susan remained calm and, at least on the outside, content .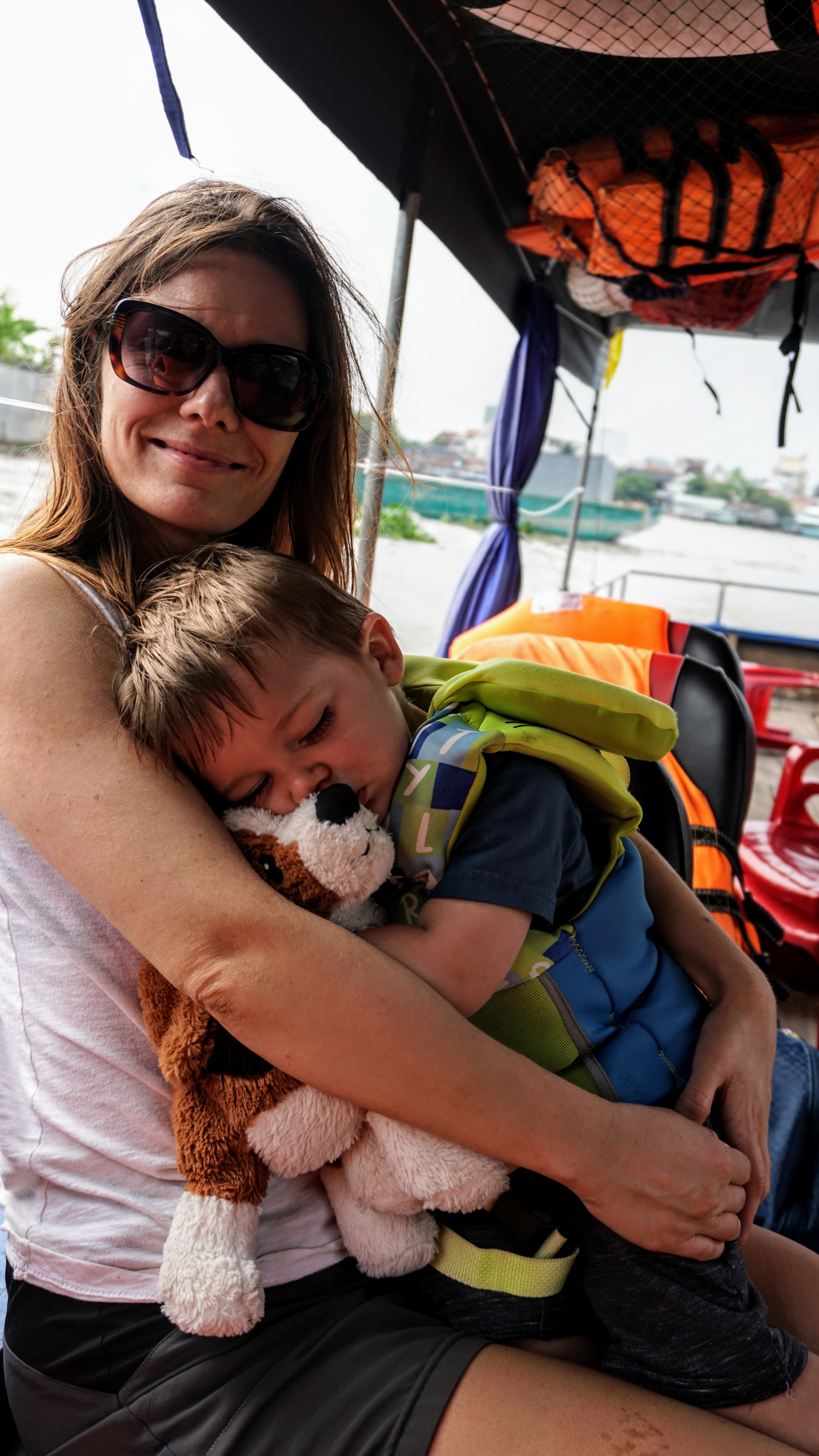 Couple words on public transportation in Vietnam
I am frequently asked about how we move around when travelling. In the Surviving Ho Chi Minh post I wrote about how, by trial and error, we figured out a way to safely move around this mega city (over 8 million people). However, when it comes to taking local busses between the cities, I cannot speak highly enough about public transport. The busses are air-condiitoned, super clean due to the fact that food is not allowed on them, bottled water is provided free of charge and there is free wifi ! For no extra cost, we were also able to go on the sleeper bus from Can Tho to HCMC which was extremely comfortable.