Organized packing
Organized packing
It is almost embarrassing that after years of travel only very recently I discovered the practicality of packing cubes ! To my defence, I feel like that not that long ago they have become THE THING.
So, intrigued by a post on traveling forum about must haves for travel , I started researching  cubes. With the large variety of shapes, sizes and prices, I felt like I was on a great mission to find something that was really light, would work in a backpack but wouldn't break my bank.
I ended up getting two different sets at two very different price points and began dry run of packing my clothes for our upcoming trip.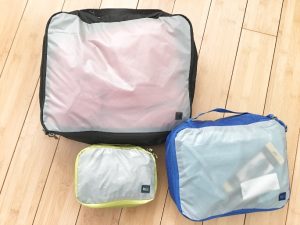 Set 1 . Ultralight packing cubes from Mec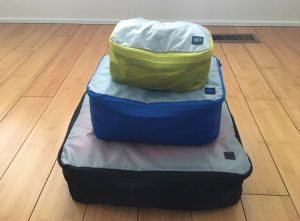 Sizes: small 16 x 11 x 7 cm, medium 23 x 18 x 10cm, large 32 x 26 x 11 cm.
Pros:
– Can colour code
– Almost seethrough top
– Handle to easily remove the cube from the backpack
– Good quality
– Very light
– Flexible – shape mostly given by the clothes inside
Cons:
-Price;  Steep considering that you are paying over $30 CAD for 3 cubes.
Set 2. Forfina from Ikea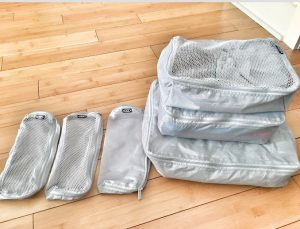 Sizes: small 3 pcs 10×3½x1″ , Medium 2 pcs 10x6x3½" , Large 13⅜x10x3½"
Pros:
– Light
– 6 cubes in one set – can store more things
– Some cubes have see through mesh
– Price ! For only 10$ for the set you can't beat it
– Flexible, shape given mostly by the clothes
Cons:
– One colour
– No handle
– Lower Quality
– Mostly smaller cubes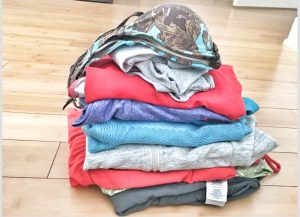 The clothes I packed included 4 T-shirts, pair of pants, heavier dress, sweater, long sleeve shirt, knitted beach cover/dress, swimsuit and underwear.  Each set took about a 1/3 of my 55 l backpack ( although Mec seemed to take more space). What I  am really excited about is the idea of no longer digging through all my clothes to get to the kids' stuff, knowing where everything is and easily removing clothes with hopefully fewer wrinkles.
So, which  set is better? The answer will depend on one's needs. For the smaller items, where budget is an issue and overall value for money ( 6 cubes),  Ikea packing cubes are superior. However, I did enjoy colour coded approach with handles from Mec.