Surviving Ho Chi Minh City (Saigon)
Surviving Ho Chi Minh City (Saigon)
The idea of booking a trip that included Vietnam was sort of accidental. I was in a team meeting when I saw  email in my personal inbox with an incredible open jaw flight deal that included Thailand , but  it was landing in Ho Chi Minh city to then depart from Bangkok. Without thinking for too long, I texted my husband and said that he needed to check it out. An hour later our flights were all booked and the fun of planning our holidays began.
Few months later and after 27 hour flight and two layovers our family finally arrived at our first destination – Ho Chi Minh city, also known as Saigon. From the beginning, we anticipated that Vietnam would be the most challenging place for us as children would likely be trying to adjust to their new time zone. Still,  on very limited sleep of 1-2 hours a night, we took on a challenge of conquering  Saigon.
Saigon's Traffic
There is a saying in Poland that when something is very chaotic , it's like in Saigon. Well, this saying never really made much  sense to us until we had a chance to experience it on our own skin. When you land in Saigon, what you see first is one of the ugliest traffic jams in the world. With over 4.5 million scooters on the road of Ho Chi Minh city and very few street lights or signs, it feels like the city is in a state of constant chaos!
It is pretty funny to think back to our first day in Saigon when we decided to walk from our hotel, located near the Walking street, to Ben thanh Market, one of the most recognizable buildings in Saigon. Even though the distance on google maps seemed very doable , it quickly became apparent that Saigon's sidewalks are not meant for families with strollers ( or walking in general) and, instead, serve as mini parking lots for Saigon's omnipresent scooters, food carts and rooster cages.  As a result, we ended up navigating our way around ever moving scooters and cars and almost never used sidewalk.  But the the real fun begins as one is trying to cross the street. As  responsible global citizens of the Western world, at first , we tried to play by the rules of our own country and wait until someone let's us through; DON'T!!
The truth is no-one will stop or care for even a split second, even if you are pushing a stroller. So, instead of waiting, I strongly recommend to take a deep breath, half close your eyes and just go . While the part of the eyes might be a stretch , but the rest is as real as it can be.  Although it appears that the scooter riders of Saigon rarely use breaks,  they are quite skilled in going around things, so chances are that by embracing jaywalking in Saigon you will be just fine.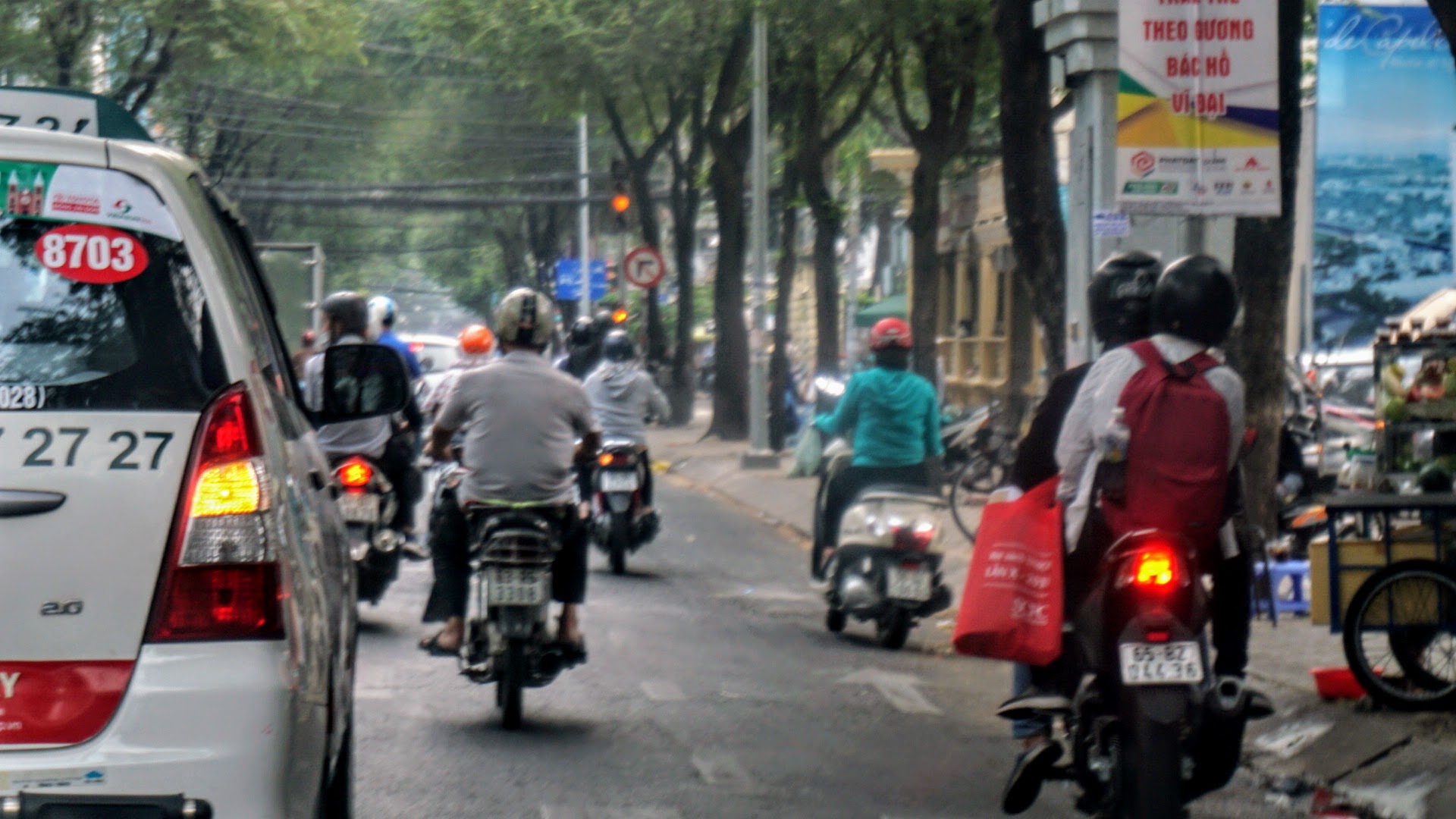 So, back to Ben Thanh market… I had high hopes for the market hoping to purchase some inexpensive souvenirs and perhaps some traditional clothing. Within seconds after walking to one of the alleys, we were all overwhelmed by tight spaces between the little shops with the aggressive sellers insisting to stop and purchase their products. Under normal circumstances we would probably be okay with that, but running on next to no sleep, pushing stroller and chasing a sleep deprived  4.5 year old, our tolerance and ability to negotiate was all gone; hence, we turned to another satisfying thing nearby – ice cream at the Ben Thanh Street Food Market.
Not too far away from Ben Thanh is the War Remnants Museum, commemorating Vietnam War and its fallen soldiers. Despite all the gruesome pictures and stories of the war, the museum is actually surprisingly child friendly. Outside, war planes, tanks and heavy machinery sparked the interest of our 4.5 year old. Inside, on the second floor , blissfully air-conditioned playroom suitable from older toddlers on. The playroom is well equipped with toys, games, art supplies as well as traditional vietnamese costumes for children to try on. I saw several parents leave their children ( 7 years +) in the playroom with the staff member to roam the museum; however, from what I have noticed, I wouldn't count on close supervision .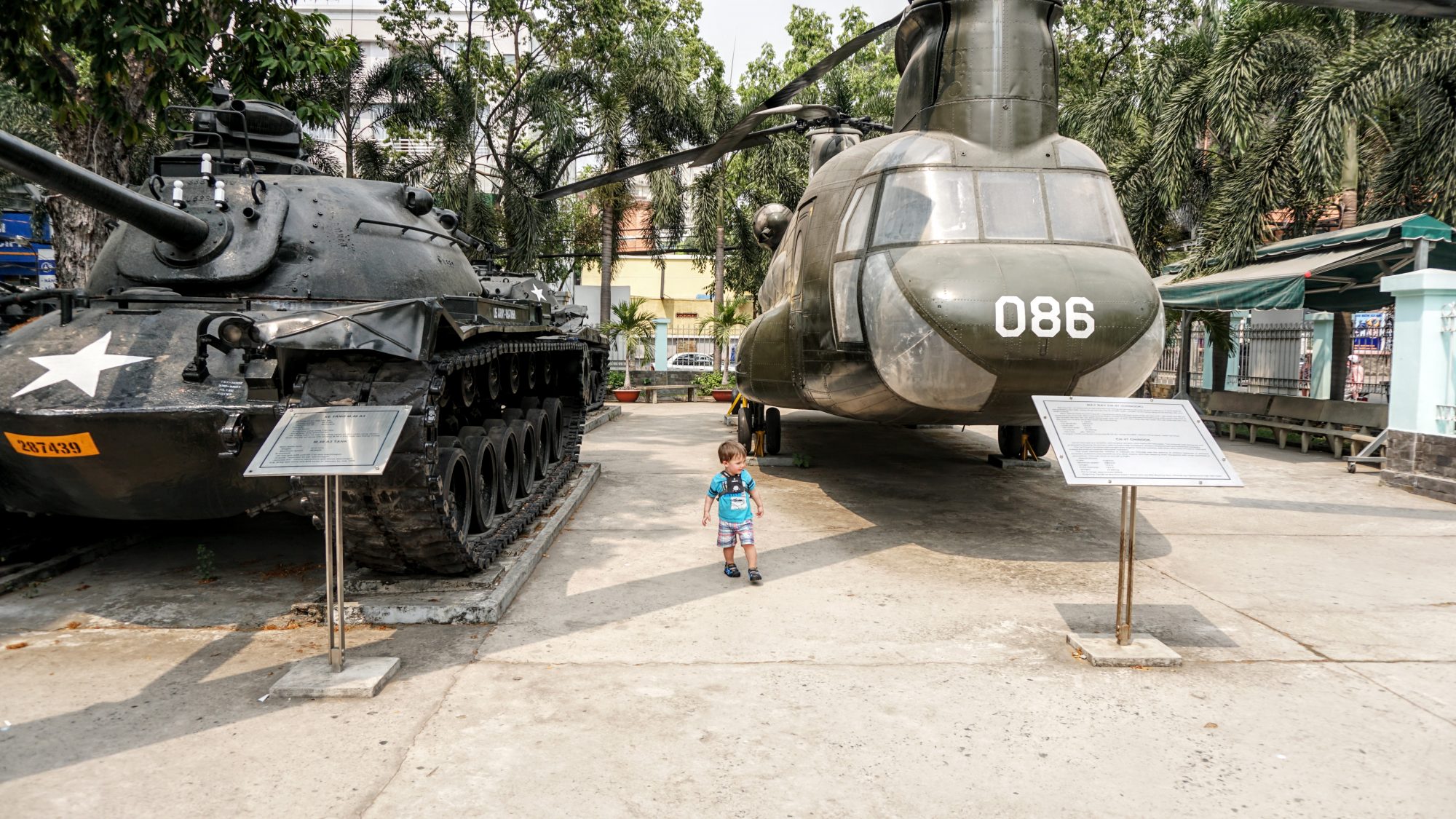 For those in need of some quiet place away from the chaos of Saigon's streets , just a short walk away from the War Remnants museum is Tao Dan park.  The park is known for its bird cafe which in the morning fills up with locals who bring their signing birds to socialize. As it was closer to the noon when we finally made it to the park, our focus was on enjoying the peace and greenery and letting our boys play on the playground. The playground equipment is new and in very good condition.
For a nice walk at night, it is worth taking a taxi to the Nguyen Street and see the People's Committee Building ( City Hall). The place is beautifully lit up at night with timed fountains for additional effect. Since the kids were still severely jet lagged, we visited this place late in the evening and were able to take some photos without crowds. However, it is a very popular spot, so expect lots of tourists and locals if you head there during the day or even before 10pm.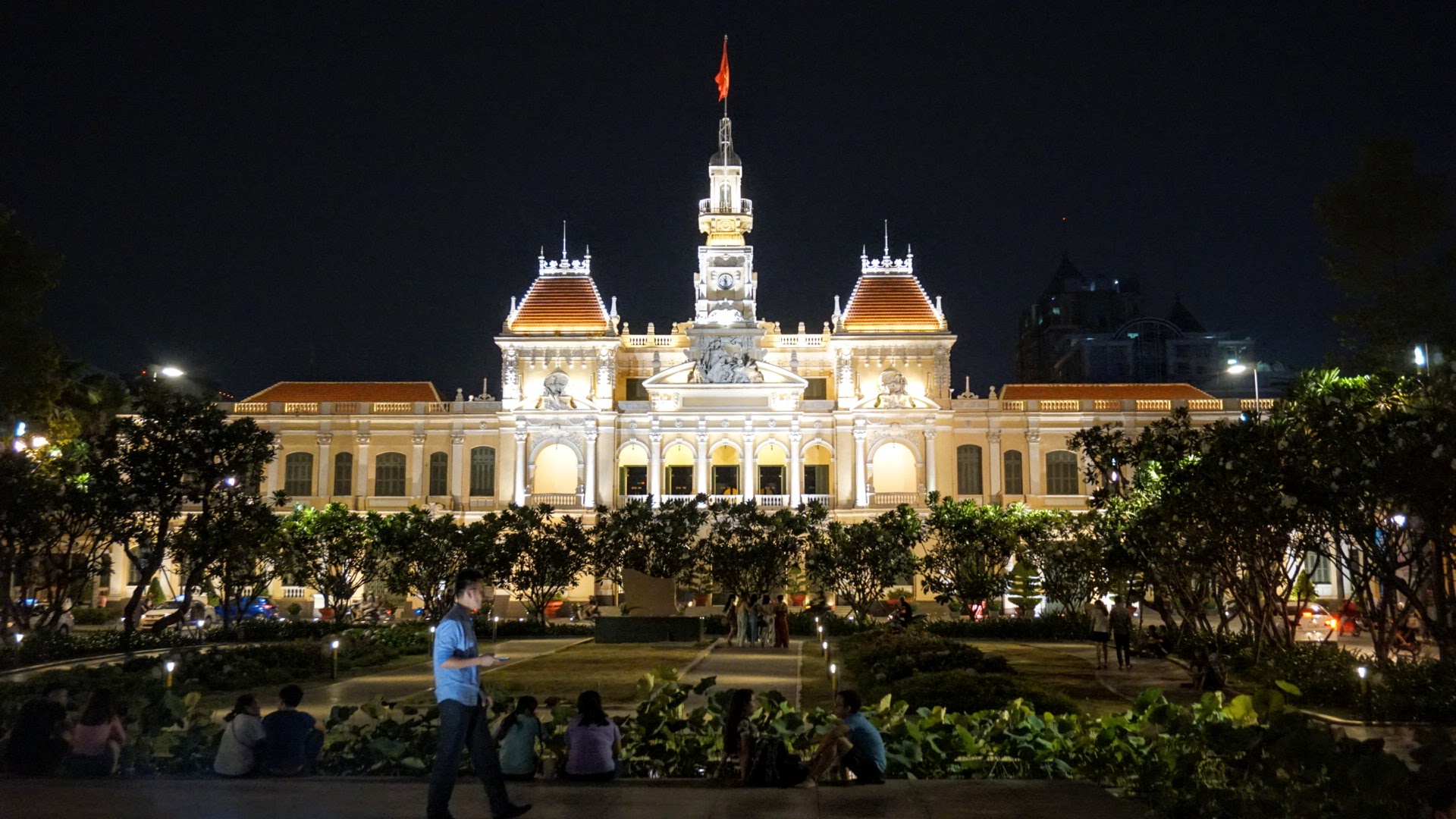 Where to eat
One of the astonishing things about Saigon is its busy nightlife. Vietnamese people love to be out at night, socialize and enjoy some delicious street food.  There are literally hundreds of little pop up restaurants with tiny plastic chairs scattered throughout the city.  One of our favourite places to eat was one of those pop up kitchens in the back alley that served delicious and very inexpensive pho and fresh spring rolls. Despite its understated location and, one might argue, safety, our  food was always hot, dishes clean and we never experienced any stomach discomforts. To our surprise, even our picky 4.5 year old developed quite a liking for pho.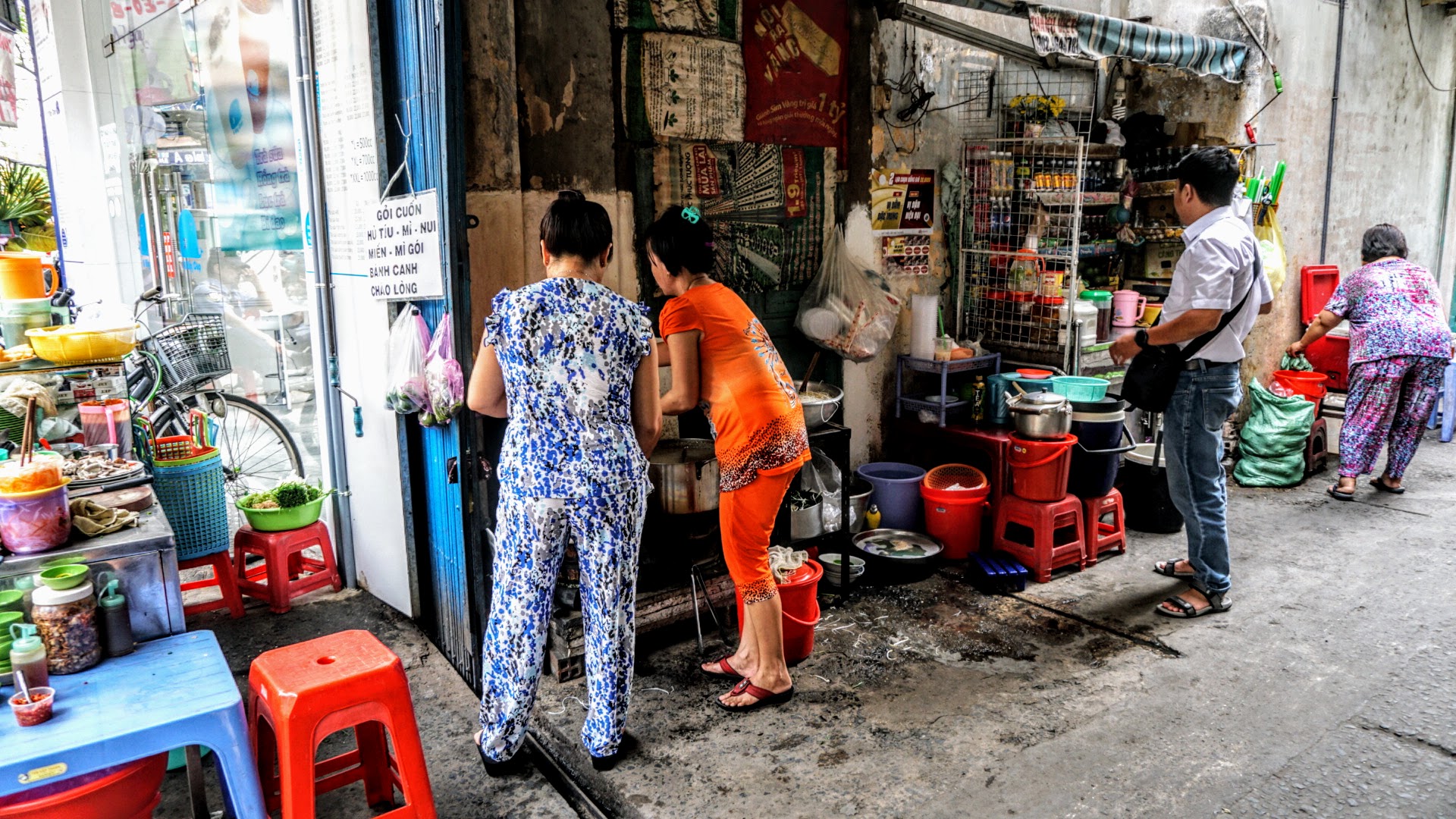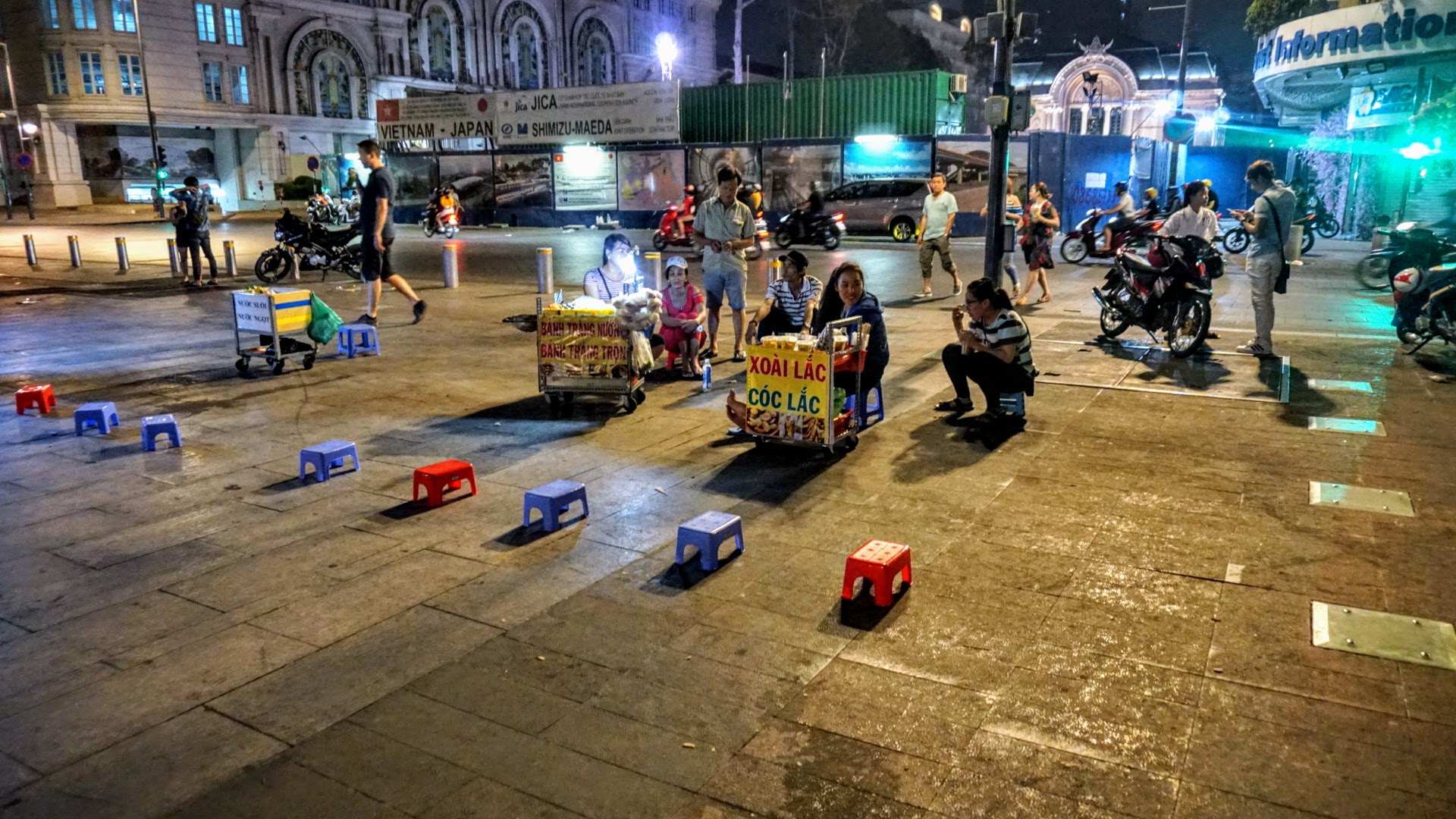 While  we generally stayed away from regular restaurants, one place worth checking out in Saigon is Ca-rem , little ice-cream shop with coconut ice-cream served in its shell with coloured rice and unusual condiments, like corn kernels.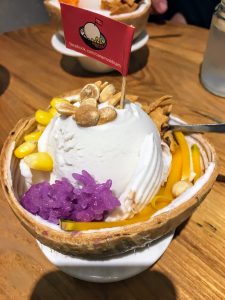 For those travelling alone, or with older children, I strongly recommend booking free Saigon Walking Tour. While my mom and I entertained the little ones, my husband and my dad went for the tour and loved it. After being picked up at 6:00pm by couple university students on their scooters, they went on a four hour " off the beaten path " adventure visiting places they would have never seen otherwise, such as flower market, Cambodian market, eating traditional Vietnamese pancakes and checking out different districts of the city.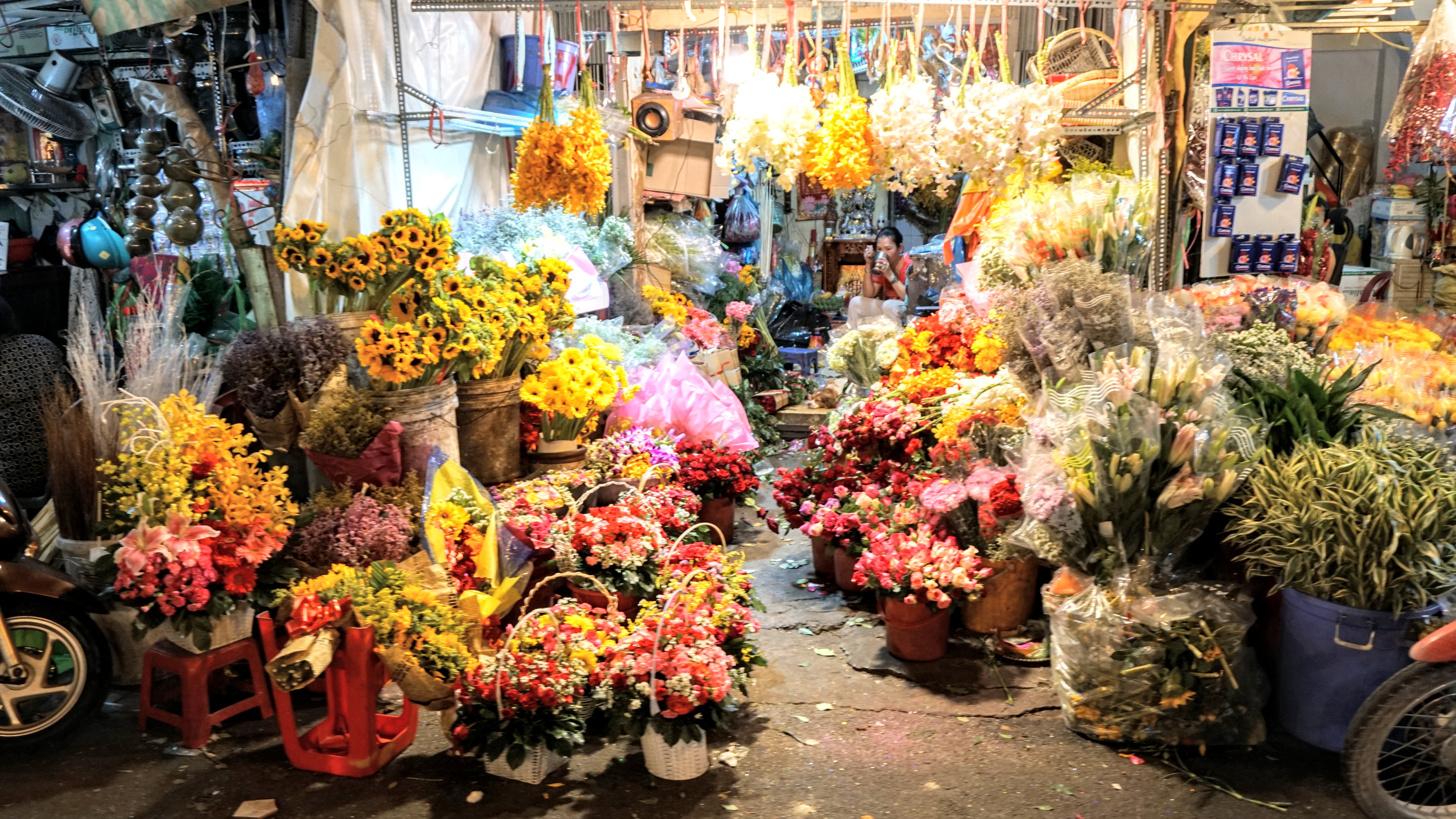 Tips for surviving Saigon
Because Saigon was a true culture shock for us, my hubby actually took it upon himself to write a  short list of survival tips for everyone who after reading this post is still thinking about visiting the city 🙂
Make sure you bring an unlocked phone
 Buy a sim card at the airport by the exit door ( 200-300k dong)
Download Grab application to your phone; it's your Uber Asia version for taxis
Take taxis everywhere.
I can not stress enough how much more relaxed we became after we realized that taking taxis was the way to go. It will cost you under 3$ to go anywhere within District 1 of the city and you will have a peace of mind that your kids are safe. While there are quite few places to rent a scooter in Saigon, having seen three accidents involving scooters in just under a week , one of which appeared to be fatal, I would be very careful about renting one myself. Saigon is changing and currently there is a subway being built near the market which hopefully will help with congestion, but till then, Saigon will continue to shock and surprise.