Taman Negara Jungle Experience
Taman Negara Jungle Experience
When we booked our trip to Malaysia, we knew that visiting rainforest was on our list of things to do. Pressed for time, we decided that we were going to save Borneo for another time and visit world's oldest rainforest,Taman Negara, instead.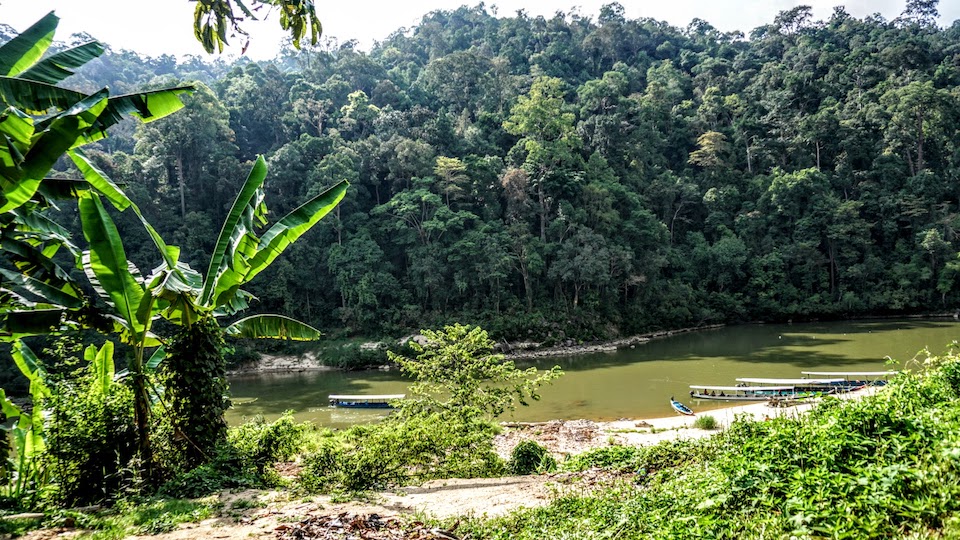 Getting There
Being budget friendly , we opted to use a local bus instead of a van. This was much cheaper and, given the fact that we had two little ones with us , a more comfortable way to travel.
Let me explain: contrary to what many might think, we actually found public transport to be the way to go for long distances for our family when backpacking in Asia: 1) It is way cheaper than private arrangements, 2) It gives you more room to move around which Is essential when travelling with young and very active kids , 3) You can physically separate the kids and make sure that they are as far from each other as possible, if needs to be.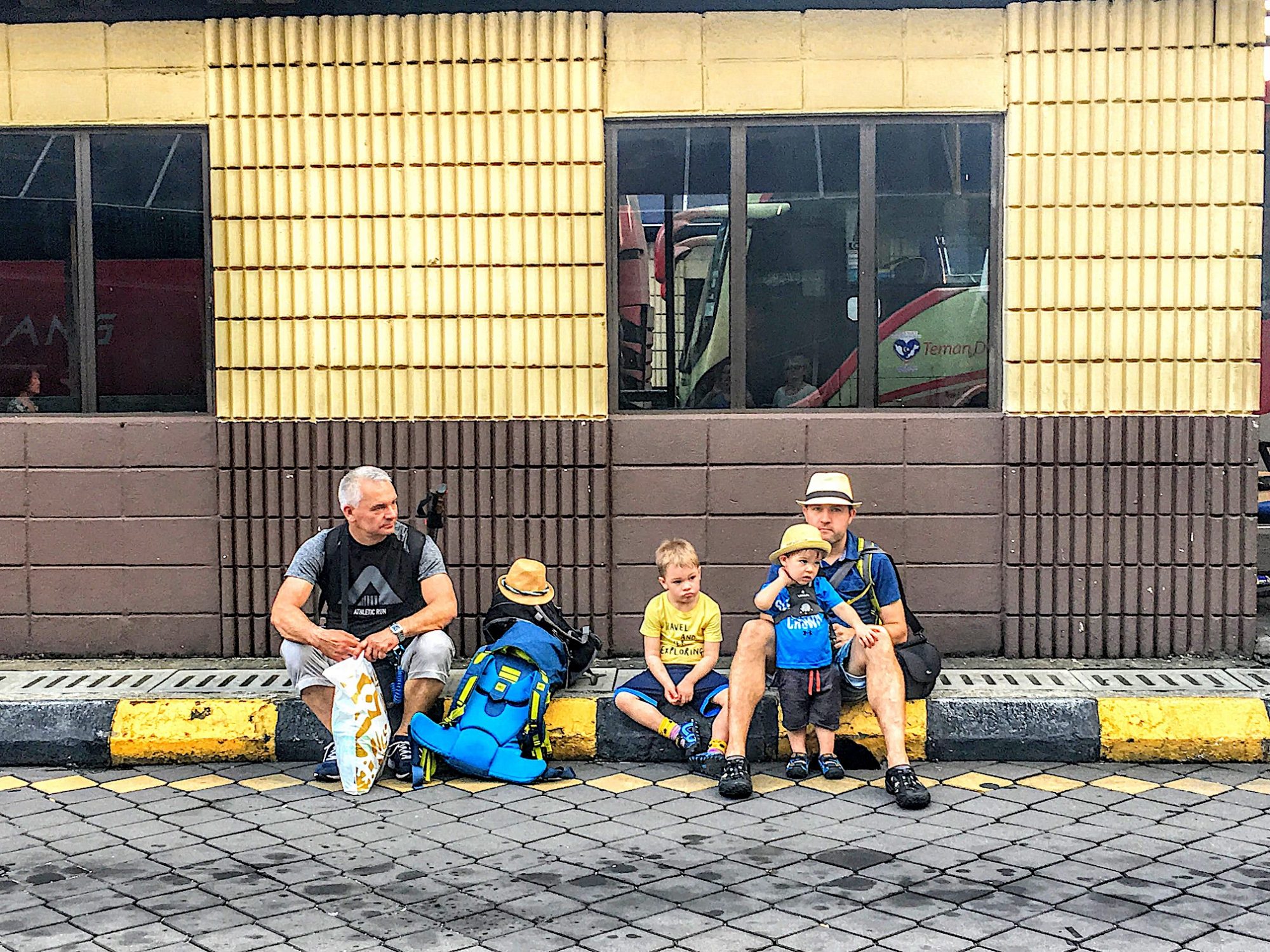 Regardless of the country we were in, we found that our boys struggle when put in tight places like s cab. Typically, within seconds, we hear complaining of one's foot being too close to the other kid's face or that one is sitting on the other one's lap etc. No matter how much we try, cabs only work for short distances for us.
After following advice found on some travel blog, we took a monorail train to the bus station to board a bus for a three hour drive to Jerantut. The bus station itself is not, but it is essential to arrive earlier in order to purchase your ticket as these cannot be purchased online in advance. The bus ride is comfortable and makes one stop on the way to Jerantut for a quick bathroom break. Here is where things got interesting for us, As we exited the bus in Jerantut, we were approached by a random man who attempted to hurry us into going with him to get the tickets for the 3-hour boat ride up the river. Due to the pressure tactics he was using, we felt vey uncomfortable and, quite frankly, wanted to have nothing to do with that man and decided to take a taxi to the boat ramp at Jeti Kuala Tembeling. After a 30 minute taxi ride we arrived and started looking at getting tickets for the boat ride up the river to Kuala Tahan. We quickly realized there are only two companies that run the boats up the river, Han Travel and NKS Travel. It's kind of a monopoly so trying to negotiate prices is pointless. NKS Travel was offering tickets for 40 RM per person but we wanted to talk to Han Travel as well.
Unfortunately, we found out the hard way that Han Travel will only take you up the river if you took their van shuttle service from KL. By the time I finished talking to Han Travel ( after waiting in a 40 minute line to talk to them ) NKS travel got all booked up. So, we were stuck at the Jeti without a way to get up the river to Kuala Tahan with the last boat leaving at 2 pm for the day. We also found out that the guy from the bus station at Jerantut was actually a rep for NKS travel. We saw the people from the bus station arrive at the Jeti with him about an hour after we arrived. Although we didnt get to ride in a boat, we did end up doing some small grocery shopping in a store located across from the Jeti station before calling for taxi.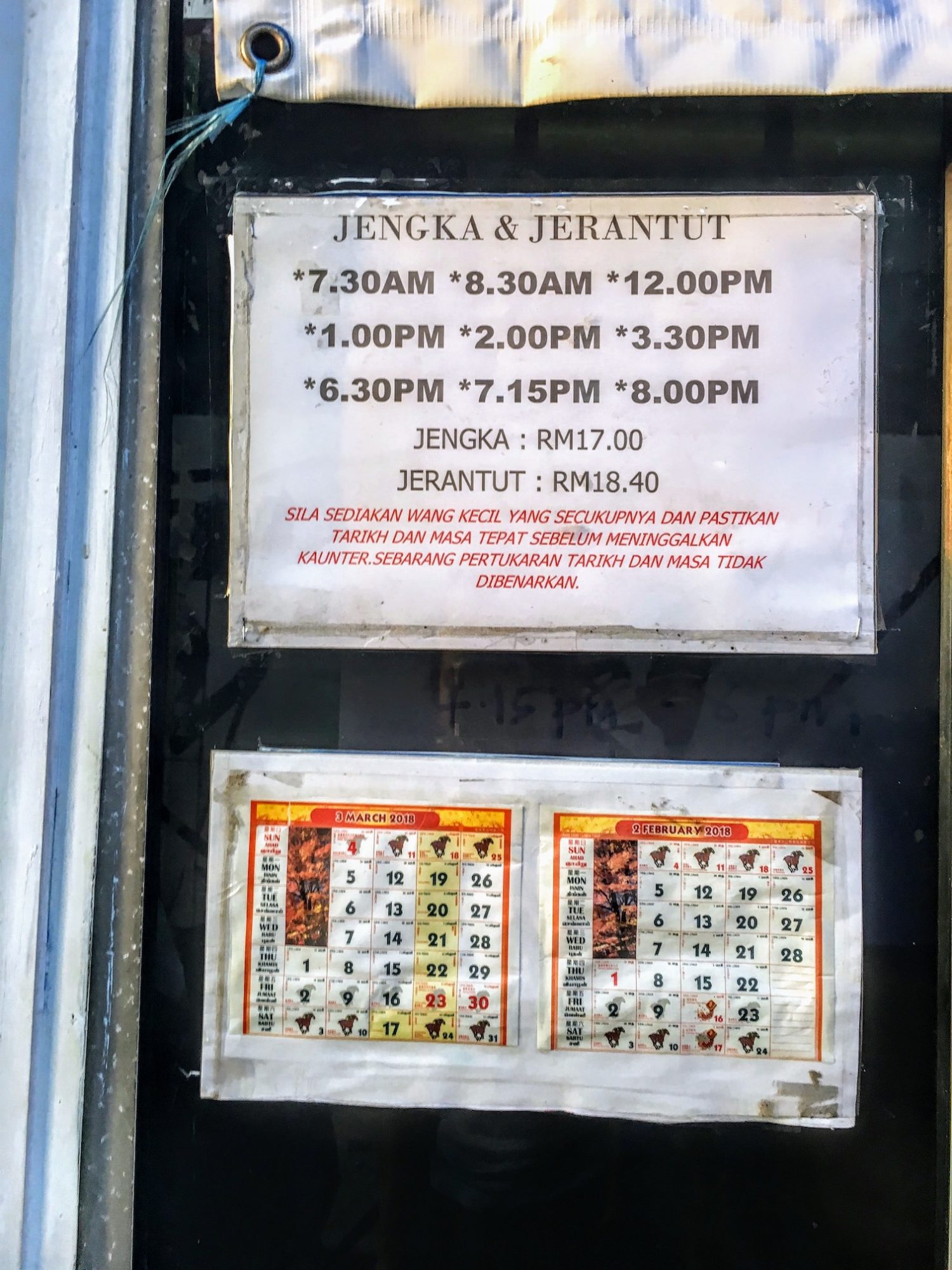 Getting a taxi to Kuala Tahan was as easy as calling a general Jarantut taxi number. Several minutes later, an elderly Chinese man in a vintage ( a.k.a very old) car arrived and for 80 RM took our family of 6 to our destination. To our surprise, he was a terrific driver and we ended up booking him back for a ride back to the bus station couple days later.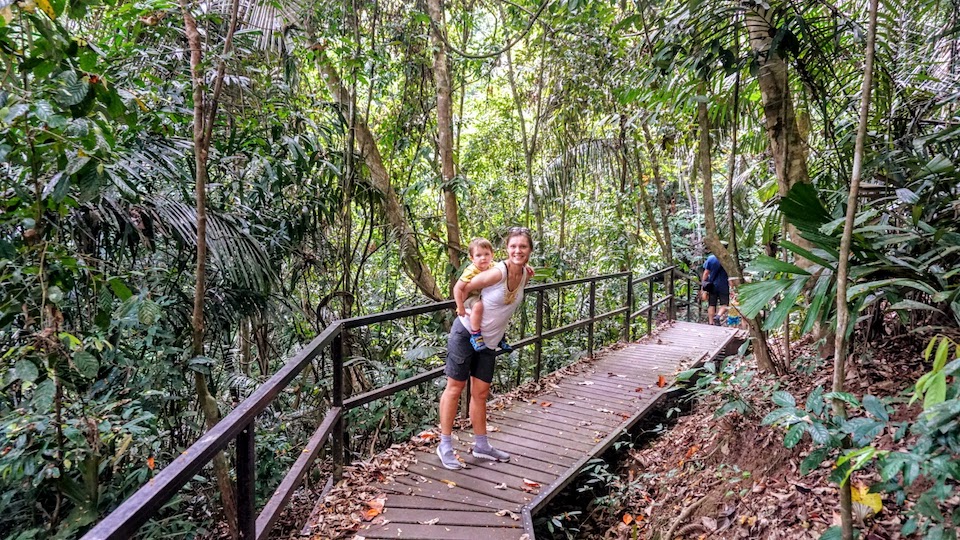 Kuala Tahan
Kuala Tahan is a small village located at the confluence of the Tahan and Tembiling Rivers. In order to get to Taman Negara park, one needs to cross a river in a boat shuttle which costs 1 RM. Our accommodation in Kuala Tahan was Mutiara resort, a bungalow like family resort situated in the Taman Negara Park. The resort is comfortable and with some luck, one can spot some monkeys playing in the trees or tapir roaming around. Mutiara has a good, but expensive restaurant on site with beer as expensive as 7USD; hence, for those who enjoy cold beer, i highly recommend visiting little mini mart in Jarantut or KL to ge the supplies. .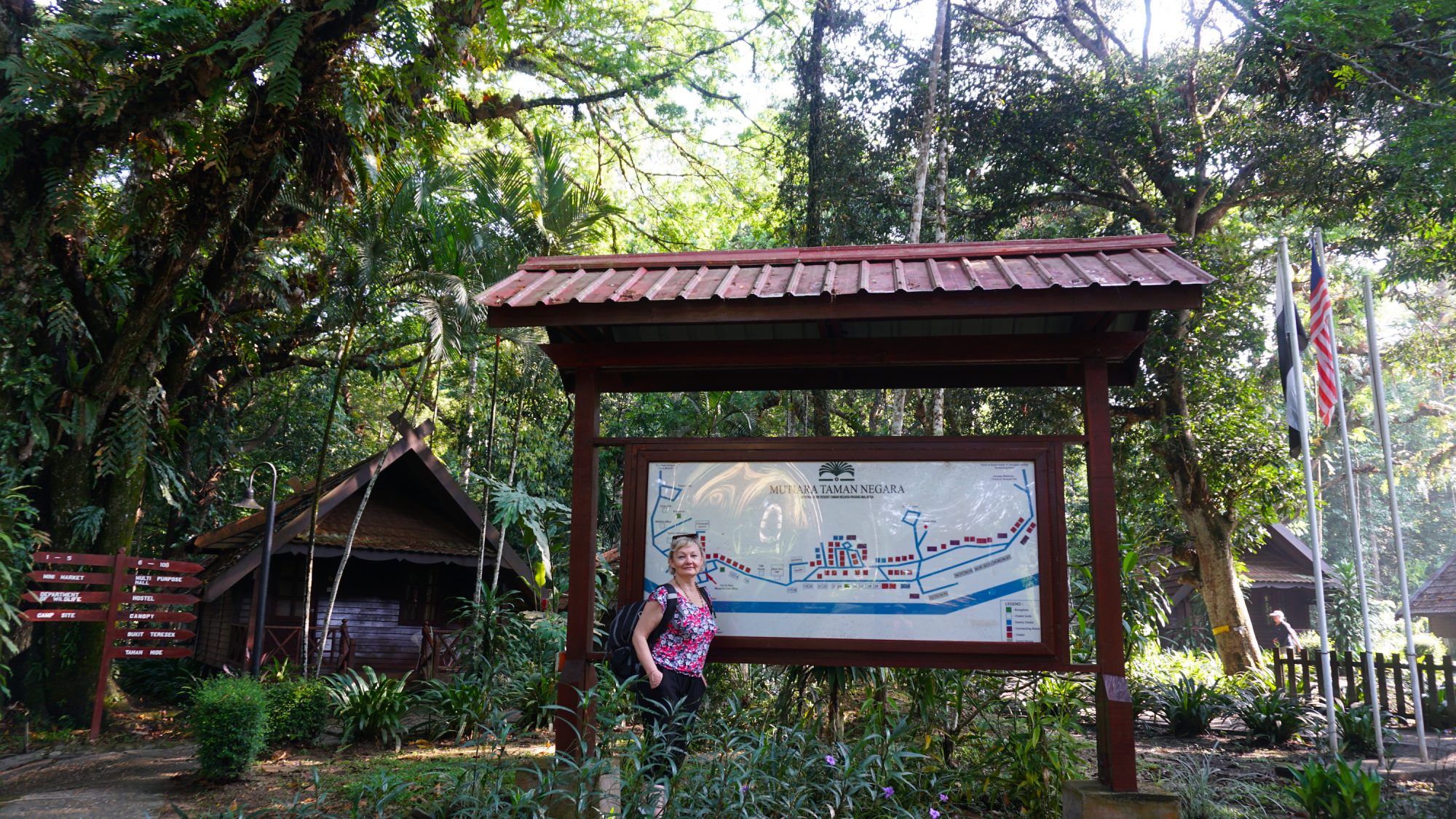 For food, floating restaurants across the river were our places to eat with tasty and inexpensive local menu. Be mindful that these are family friendly and muslim restaurants that don't sell beer.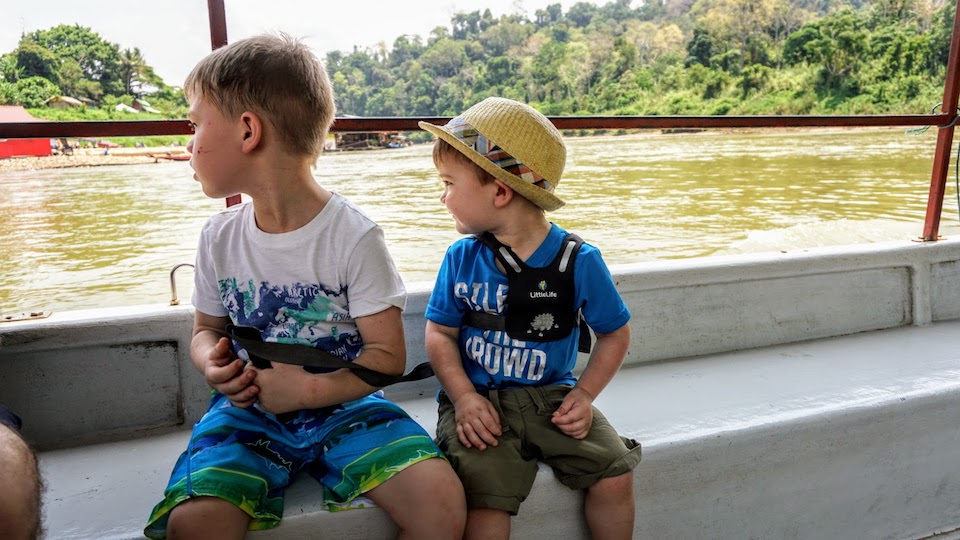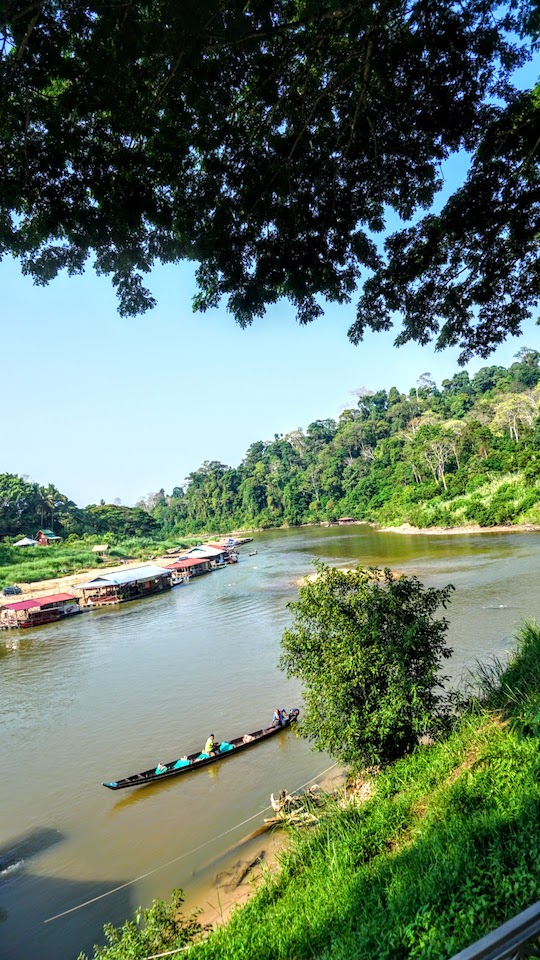 Taman Negara Attractions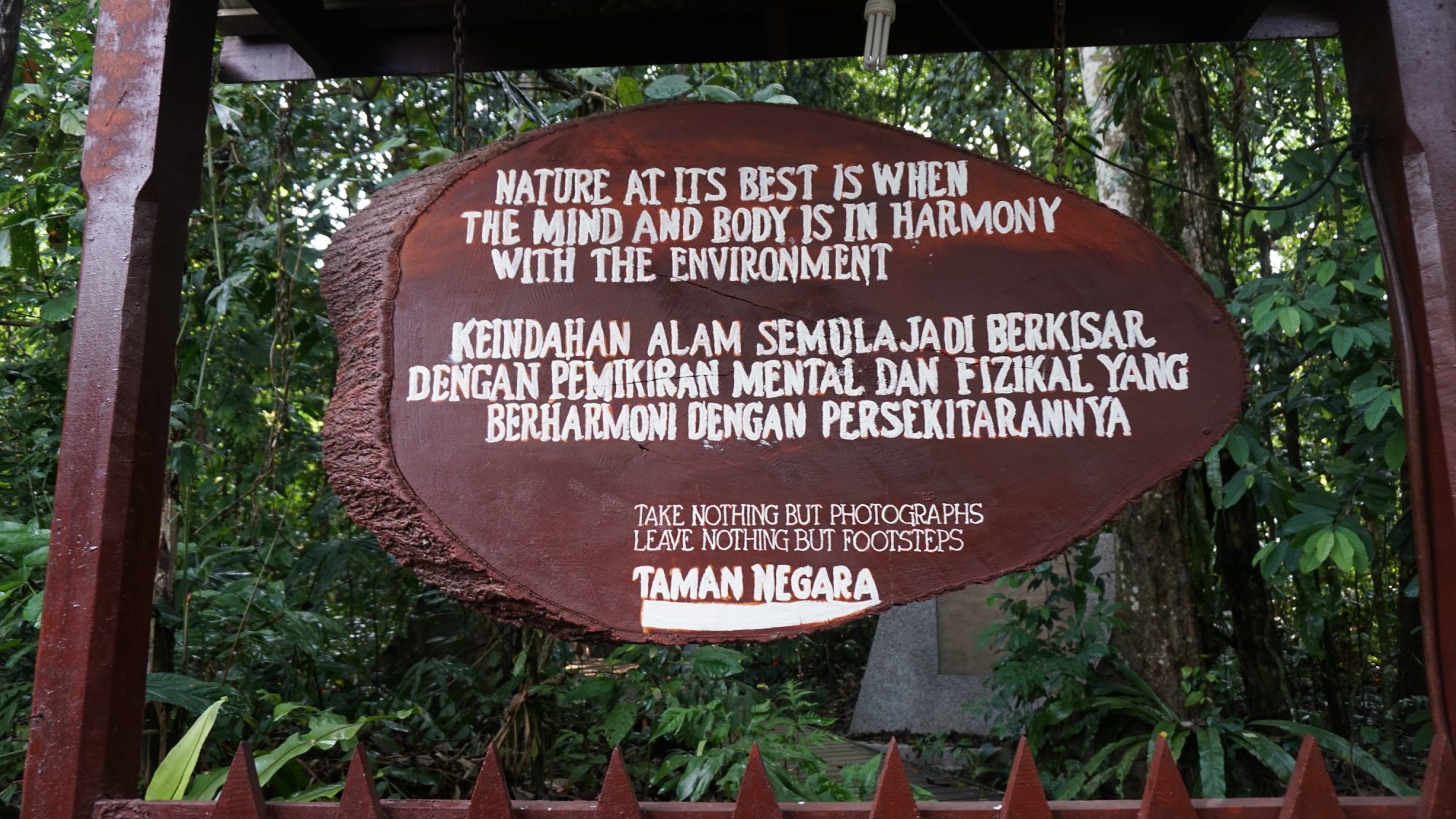 Canopy Walk
One of the must-do things in Taman Negara is the Canopy Walk. Located in the park itself, the canopy walk is a fun way to see the rainforest from the top. The canopy walk is said to be one of the longest rainforest canopy walks in the world connected through several tree platforms. Depending on one's pace, it is about 30 minute walk in the jungle following a decent paths to make it to the canopy walk. While our 4 year old independent walked the bridges, our two year old did not like the shakiness of them, we ended up carrying him for most of it.
When planning the walk, be mindful, however, of the opening and closing times, as on our first day, went after 3:00pm only to see it closed. Also, buy the tickets for the canopy walk at the park's Headquarters so that you don't find yourself in front of the Canopy Walk entrance begging forest rangers to let you on the bridge.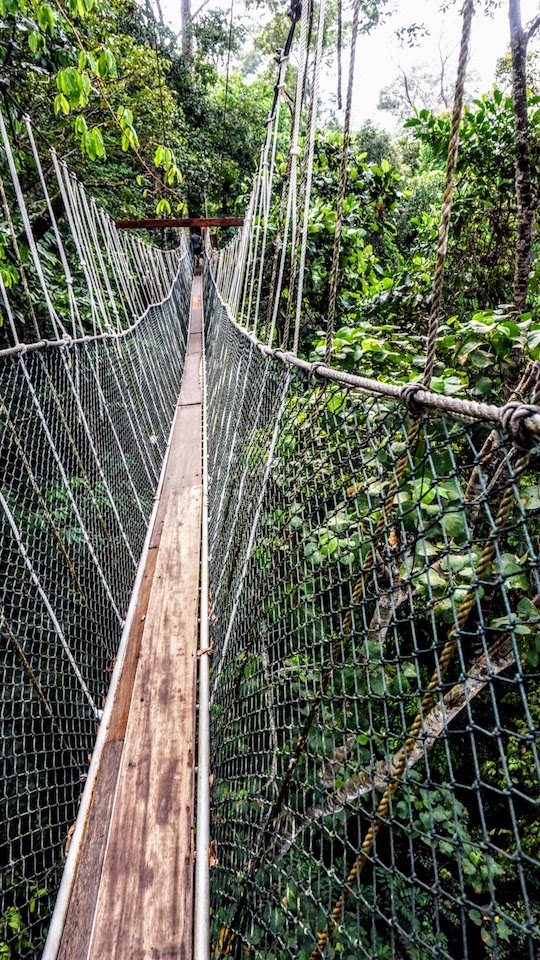 Orang Asli Village
Visiting Orang Asli is a hands on educational experience to gain better apprreciation of lives, culture and customs of aboriginal people of Taman Negara. It is quite incredible to see how these people live and the traditions that determine when they need to move their village to another place. Our boys loved learning about hunting in the jungle and making fire, but the highlight of the visit to the village for them was, of course, using bamboo blow pipes.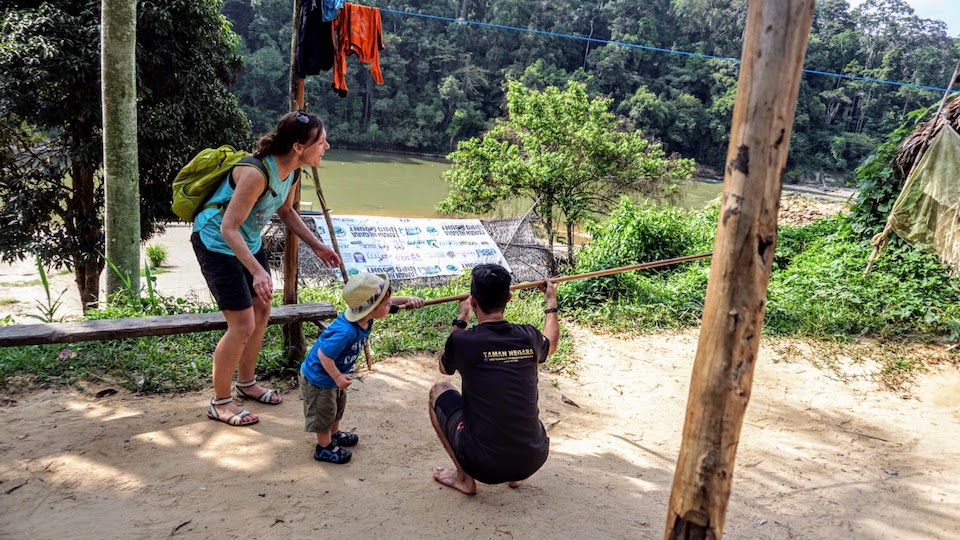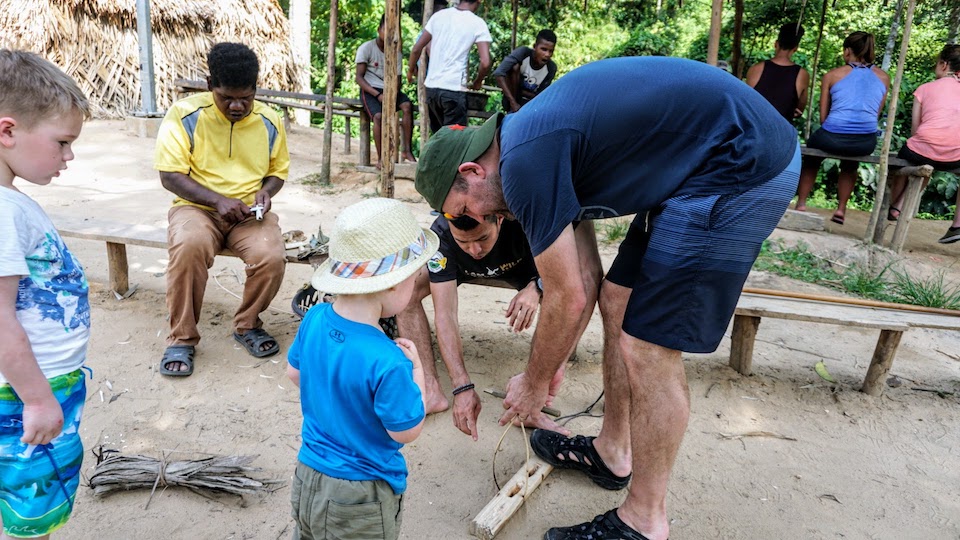 Life as different as it could be from his North American one, my 4 year old felt surprisingly at ease in the village. The half day tour is best combined with some excitement of shooting rapids. Although we were worried about our youngest one, our 2 year old was squealing with happiness every time he got soaked with the warm water of Tembeling river.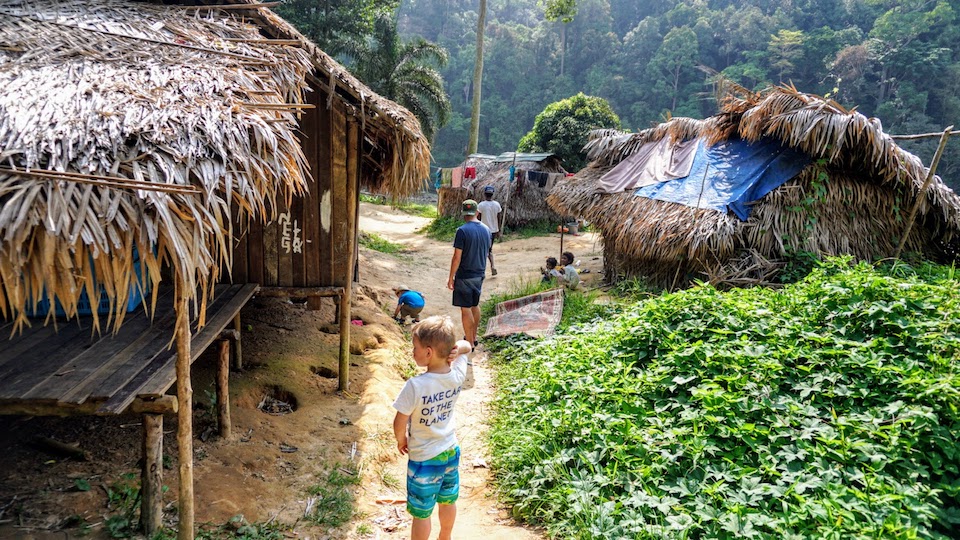 Guided safari tours
We have seen many people doing guided night tours or safari walks, and here are my thoughts: For those interested in learning more about every tree or specie in the jungle, it is definitely worth hiring a guide. With two young children, however, we knew we were not going to be successful at it and therefore chose to do independent walks instead. Bring lots of water with you, regardless whether it is guided or independent trekking, as the rainforest gets very humid . Taman Negara was also the only place for which our doctor recommended Malaria pills, so for your own safety, it is worth investing money in this medication before leaving for the trip.