Toddlering in Krabi ( first trip)
Toddlering in Krabi ( first trip)
After several days in Japan of running around with our toddler from one attraction to another, we were in a desperate need of relaxation. Hence, we decided to go back to our beloved Thailand and relax on its stunning beaches.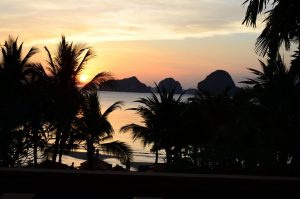 Our first place we stayed in was Krabi Resort directly on Ao Nang beach. Those who have been to Ao Nang will quickly realize that majority of resorts are located a distance away from the beach due to a street and shops running alongside. It was therefore that much  more exciting not to have to cross the street with our toddler to get to the sand. Having said that, Ao Nang is busy and the numerous long tail boats parked on the beach make the beach almost unswimmable. Hence, if you happen to be in Ao Nang , I highly recommend taking a long tail boat to one of the adjacent beaches, Railway or Ton Sai. The beaches are beautiful, the water way clearer than in Ao Nang and the atmosphere more relaxed ( especially Ton Sai).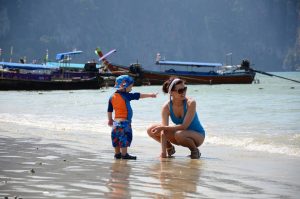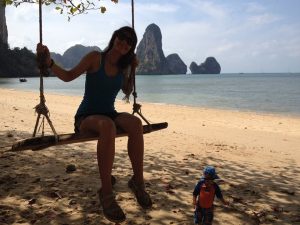 I actually sort of felt disappointed with Ao Nang that although so close to the beach, I didn't get the relaxing feeling I have been looking for , yet , at that point desperately needed it.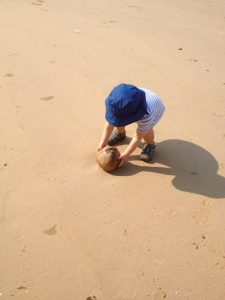 So, after few days of Ao Nang , we ventured outside the town to spend three nights on our absolute  favourite- Tub Kaek Beach.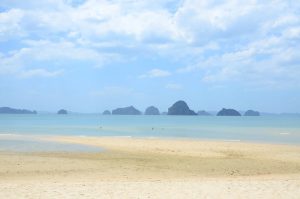 Full disclosure here, when writing about Tub Kaek I feel like I am giving away a secret, a hidden gem that I am desperately trying to protect.  However, I believe  that due to very limited accommodation options, distance from Ao nang  this place will not turn into another popular tourist hub.  So, why we love it so much?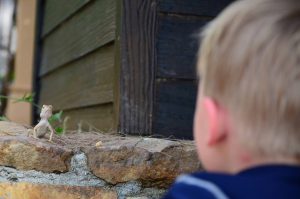 Located only 30 minutes away from busy Ao Nang , Tub Kaek feels like it's worlds away and  reminds me more a remote island than a drive down the road. Secluded , with only handful of moderate to upscale hotels overlooking stunning Ko Hong islands, it it truly incredible  place to unwind and forget about the world.  The beach is also perfect for little feet, as the water is very shallow around the beach and the sand is powder white. While there is literally nothing else to do, but relax and kayak, near Amari Vogue Krabi one can find couple long tail boats waiting for tourists  to take them to Ko Hong Islands. At Ko Hong, our toddler was mesmerized by all the fish swimming around, while we enjoyed the stunning view. On the way back  to Tubkaek Beach our long tail boat stopped at some small island for a short break as we watched grumpy monkeys  stealing tourists' chips left near the beach towels.